Press Release: Bill to Restrict Cruel, Dangerous Traps and Poisons in New Mexico Fails in Key Committee
Wendy Keefover | WildEarth Guardians | 505.988.9126, Ext. 1162
Laura Bonar | Animal Protection Voters | 505.401.8936
Mary Katherine Ray | Sierra Club, Rio Grande Chapter | 575.772.5655
Monica Engebretson | Born Free USA | 916.267.7266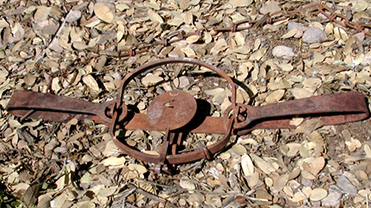 Santa Fe­—The House Energy and Natural Resources Committee failed to pass House Bill 579, a bill amended to restrict poisons and traps on public lands, today by a vote of 6 to 5 after three days of spirited hearings. Introduced by Representative Roberto "Bobby" Gonzales (D-Taos), the New Mexico Wildlife Protection & Public Safety Act, would have curbed the cull of New Mexico's native wildlife for the profit of a few, the cruelty and suffering caused by hidden but dangerous traps and poisons on New Mexico's public lands while elevating human safety for outdoor recreationists, and preventing the unintentional take of species not allowed to be trapped such as Mexican wolves, Canada lynx, and river otters.
"Although the bill provided several exemptions for domestic livestock growers, a mass of misinformation was liberally propounded by some during these lengthy hearings," said Wendy Keefover, Director of Carnivore Protection for WildEarth Guardians. "One legislator repeatedly complained about coyotes and then, ironically, later grumbled about the jack rabbit population."
Trappers privatize those animals for personal gain and currently can earn hundreds of dollars for each bobcat pelt—some pelts have fetched more than $600 per. This is called "market hunting." It involves no principles of conservation, but demand is driven by pelt prices and not regulated by the state. The higher the market, the greater the demand on bobcat numbers for the skins of bobcats. In addition, many other New Mexican species get trapped for their furs, but unlike bobcats, the kill numbers reported are never verified — even for rare species such as swift foxes, kit foxes, and ringtails.
"There's a gold rush happening on New Mexico's wildlife, and it's being aided and abetted by the state's policies," said Mary Katherine Ray, Wildlife Chair for the Rio Grande Chapter of the Sierra Club. "A few rob the public commons for their own personal gain. This harms all other wildlife and even innocent hikers and their family pets," she added.
According to a government survey, most New Mexicans, who have identified themselves as wildlife recreationists, fall into the category of wildlife watchers, who number nearly 800,000, compared with fewer than 1,500 trappers. Moreover, a 2005 scientific poll found that 63% of New Mexican voters, regardless of party affiliation, support a ban on traps. In short, most voters want to see traps banned because they are cruel devices.
"The majority of New Mexicans value humane treatment of animals and responsible management of wildlife," said Lisa Jennings, Executive Director of Animal Protection Voters. "We're disappointed that the reasonable steps outlined in this bill were subject to so much distortion and misinformation."
Animals frequently sustain injuries from restraining traps, in addition to physiological trauma, dehydration, exposure to weather, and predation by other animals. Animals released from restraining traps may later die from injuries and/or reduced ability to hunt or forage for food.
"Born Free USA's recent investigations in New Mexico documented abominable cruelty perpetrated by some onto trapped wildlife, including on bobcats and cougar kittens," said Monica Engebretson, Senior Program Associate of Born Free USA. "The needless suffering will continue until New Mexico's policies join that of its neighboring states." Arizona and Colorado banned body-gripping traps from their public lands in the mid-1990s.
"Traps are like drift nets on the land snagging anything and everything and it's past time for this to end," affirmed Ray.
Background Information:
The TrapFreeNM.org Coalition is comprised of WildEarth Guardians, Rio Grande Chapter of the Sierra Club, Animal Protection of New Mexico, Animal Protection Voters and Born Free USA.
The TrapFree New Mexico Coalition has worked since 2009 to reform unregulated trapping in New Mexico. In 2010, Governor Bill Richardson passed an executive order banning trapping in the range of the Mexican wolf.
In early 2011 Born Free USA documented shocking cruelty and brutality involved in the trapping of wild animals for the fur trade in New Mexico."  Photos taken in New Mexico are available here.
In 2011, at our prompting, 12,000 citizens requested that the agency ban traps on public lands. Instead of heeding the voices of the people, in July 2011, the New Mexico Department of Game and Fish and its Commission expanded trapping across New Mexico in places where it had been prohibited, including on the Wild Rivers Recreation Area of the Rio Grande, the Valle Vidal, the Valles Caldera National Preserve, and several state-controlled wildlife management areas.
As a result, in September 2011 the Coalition held a public forum in Albuquerque (presided over by a diverse group of seven prominent citizens), and invited the agency and the public to attend. As a result of the People's Forum on Public Lands Trapping, and the online survey that followed, more than 2,000 citizens participated and more than 90 percent noted they wanted to see a ban on traps.
In April 2012, the Coalition traveled to Grants, Farmington, Española, Taos, Portales, Roswell, Silver City, and Los Lunas and presented, "The Troubles with Trapping" in eight public forums.
Six communities (Albuquerque, Las Cruces, Mesilla, Santa Fe, Silver City, Taos), and four counties (Bernalillo, Doña Ana, Santa Fe and Taos) have passed resolutions supporting a ban on traps on public lands in New Mexico.
On February 13, 2013, Representative Robert "Bobby" Gonzales introduced HB579. It proposed to restrict the use of traps and poisons in New Mexico but allowed for generous exemptions for livestock protection, human safety, and scientific research. After it's first hearing in the House Energy and Natural Resources Committee on February 27, it was amended to public lands only and the hearing was continued to Friday, March 1. The amended bill heard another round of extensive testimony. The amended bill was voted on on March 4. Nays: Reps. Donald Bratton, Candy Ezzell, William Gray, Tim Lewis, James Madalena, and James Strickler. Ayes: Reps. Brian Egolf, Jeff Steinborn, Stephen Easley, Roberto Gonzales (sponsor), Bill McCamley.
Livestock losses are routinely over exaggerated, government data show. New Mexico producers, according to government data, lose far more of their livestock inventories to carnivores than their counterparts in Arizona or Colorado, where trapping and poisoning has been restricted since the mid-1990s:
·      For sheep, losses from predation by native carnivores and domestic dogs: Arizona (4%), Colorado (3%), and New Mexico (8%).

·      For cattle, losses from predation by native carnivores and domestic dogs: Arizona (0.46%), Colorado (0.20%), and New Mexico (0.63%).