Film: Lords of Nature: Life in a Land of Great Predators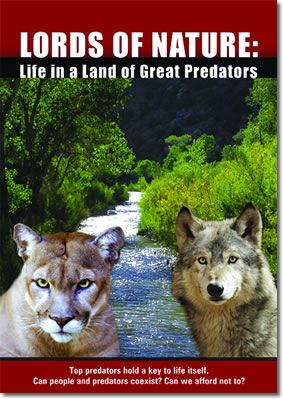 Birds, butterflies, beaver and antelope, wildflowers and frogs — could their survival possibly be connected to top predators like the wolf and cougar? Narrated by Peter Coyote, Green Fire Productions has created a captivating documentary that goes behind the scenes with leading scientists to explore the role top predators play in restoring and maintaining ecosystems and biodiversity.
 
Wolves and cougars, once driven to the edge of existence, are finding their way back — from the Yellowstone plateau to the canyons of Zion, from the farm country of northern Minnesota to the rugged open range of the West. LORDS OF NATURE: Life in a Land of Great Predators tells the story of science now discovering the great carnivores as revitalizing forces of nature, and a society now learning tolerance for the beasts they had once banished.
Filmed in high-definition, 60 minutes. LORDS OF NATURE is a documentary and education campaign about the vital ecological role large predators play in restoring the health of America's wild ecosystems.
A full schedule of Lords of Nature screenings and events can be found on the Lords of Nature Website. 
Some PBS broadcasts will be happening in Alaska in January. You can find PBS broadcasts and updates here.      
View the trailer here.