New In the Press: Female Wolf Found Dead; Male Not Located
By Rene Romo
Journal Southern Bureau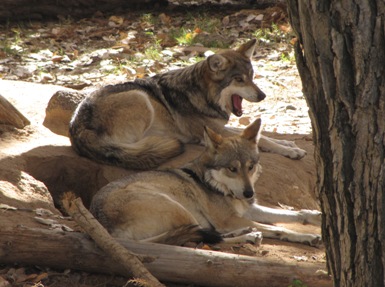 LAS CRUCES — The female wolf in a New Mexico-based pack was found dead earlier this month, and the pack's male wolf could not be located with radio telemetry equipment last week.
       
The cause of death of the Morgart Pack female is unknown pending completion of a necropsy, the U.S. Fish and Wildlife Service said.
       
The male and female members of the Morgart Pack had been traveling together in the northeastern part of the Gila National Forest throughout September, but last week federal officials were unable to find the male.
       
"That just means it wasn't located," said Fish and Wildlife Service spokesman Tom Buckley.
       
The death of the Morgart Pack female is the latest setback for the 12-year-old federal effort to reintroduce endangered Mexican gray wolves to a part of their traditional range in southeast Arizona and southwest New Mexico.
       
When the reintroduction program was launched in 1998, federal officials projected the wild wolf population would grow to about 100 by 2006. But federal officials counted 59 wolves at the end of 2006, and that tally has since declined to 42 at the end of 2009, with at least three wolves having been killed under suspicious circumstances since June.
"¦       
       
The Fish and Wildlife Service, the Arizona Game and Fish Department, the New Mexico Department of Game and Fish, and several conservation groups and individuals have pledged a total reward of up to $58,000 for information leading to the conviction of anyone responsible for illegally shooting a Mexican wolf.
To read the full article, published in the Albuquerque Journal on October 26, 2010, and post a comment, click here (non-subscribers can use the Trial Access button).
Please submit a letter to the editor supporting immediate action by the US Fish and Wildlife Service to bolster the wild Mexican wolf population: opinion@abqjournal.com
Editor's update: The mssing Morgart Pack male has been located since this article was published.