Follow the Pack Update, October 22, 2010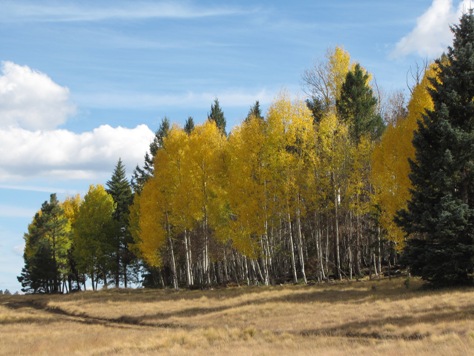 Follow the Pack just returned from five days camping and tracking Mexican gray wolves in the home range of the Hawk's Nest pack. We saw signs of fall everywhere in the mountains of eastern Arizona. The leaves of aspen trees have turned from soft green to brilliant gold.
Small animals like this spruce squirrel are busy preparing for the long, snowy winter ahead.

Mexican gray wolf pups have been growing all summer and are now able to travel with their packs. The weights of three Hawk's Nest packs pups caught and radio collared since August ranged from 20 to 35 pounds. Soon the pups will be difficult to distinguish from adult wolves when seen from the air.
The Hawk's Nest wolves are moving around much more than they did while the pups were small, making them more difficult to locate and see. On this trip we didn't see or hear the wolves, but we did find some of their tracks.
Billie made casts of several tracks by pouring track-casting material into the them. After the casting material hardened, she was able to remove the casts from the dusty surface of the road and clean them off. The resulting casts make wonderful souvenirs of a trip to the home range of the Hawk's Nest pack.


Lifting track cast from the dust.



Casts of adult Hawk's Nest wolf and pup.