More Great Letters to the Editor!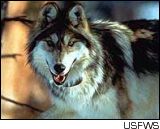 Writing a letter to the editor of your local newspaper is an excellent way to raise awareness about critically endangered Mexican gray wolves and the steps needed to help them thrive. Surveys of newspaper readers show that the letters page is among the most closely read parts of the paper. It's also the page policy-makers look to as a barometer of public opinion.  Below are excellent letters published recently.
*************************
REPLACE TO SAVE
Santa Fe New Mexican, January 24,  2012
Thank you for the Jan. 19 article, "Arizona officials amend release policy for wolves," about the decision to replace the last of the Mexican gray wolves. With fewer than 50 magnificent animals left, this is definitely a wise decision. It is very important to protect the wildlife in our states. There are thousands of children in our states who love and respect these animals. We need to follow their example and ensure the protection of the Mexican gray wolf. 
ANDREA MCCOY
Phoenix, AZ
"¦..
The Arizona Game and Fish Commission has reversed the early December decision to not release any more Mexican gray wolves into the Gila region after much public outcry. Arizona public opinion strongly favors by 77 percent the wolf-reintroduction effort and a viable lobo population in its historic Gila range.
There are fewer than 50 individual wolves in the wild. The genetic diversity is too limited at these numbers to allow long-term population survival. If there were more delays from the studies that the commission previously wanted, there would be a much greater chance of final and complete extinction of this majestic animal.
We can't afford to wait any longer to replace animals killed illegally. We need to quickly and immediately augment the remaining population with significant numbers to guarantee the survival of the lobo. 
JON SPAR
Albuquerque, NM
"¦..
I am very concerned about survival of Mexican gray wolves because there are only about 50 left in the wilds of New Mexico and Arizona. Since this is not enough to ensure their survival, we must take steps to avoid their loss — for them, for us, for the health of the ecosystem.
There are more than 300 wolves in captivity that are ready for release into the wild as part of a reintroduction program. These releases are necessary to ensure the size and genetic diversity of the population. Without this, we will lose these magnificent animals. Mexican gray wolves keep wildlands, rivers and streams healthy. This has been shown most clearly in Yellowstone, where their reintroduction renewed the land and streams. Let's support the efforts of the Arizona Game and Fish department and bring wolves back.
LORI GIRSHICK
Mesa, AZ
If you would like to submit a letter to the Santa Fe New Mexican,
click here
.
~~~~~~~~~~~~~~~~~~~~~~~~~~~~~~~~~~~~~~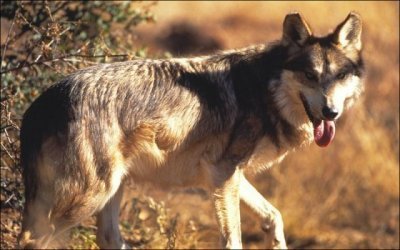 GAME AGENCY NO SUPPORTER OF WILDLIFE
Albuquerque Journal, January 24, 2012
WITHIN THE last year, New Mexico Game and Fish, with the flimsiest of data — and the blessing of the State Game Commission — doubled the bear and cougar numbers that can be killed in N.M. Then it withdrew completely from the wolf reintroduction program. Then it allowed trapping back in the Gila, which had been suspended to protect wolves. Now it is preventing the return of otters to the Gila, where they were extirpated decades ago; the last known otter having died there in a trap in the 1950s.
Does the agency work for all the people of New Mexico to whom all wildlife belongs? Does it consider that a healthy and vibrant ecosystem needs diversity and that the presence of carnivores large and small are crucial to secure that?
Or is it all just about hunting and fishing license revenue? I wish there were a state agency that would advocate for wildlife equal to the one that hunters and anglers have.
MARY KATHERINE RAY
Winston–
If you would like to submit a letter to the Albuquerque Journal,
click here
.
~~~~~~~~~~~~~~~~~~~~~~~~~~~~~~~~~~~~~~~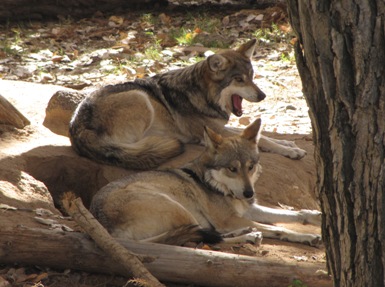 WOLVES ARE VITAL TO WILDERNESS' HEALTH
The Arizona Republic, January 22, 2012
It's great news that Arizona Game and Fish is going to support releases of more Mexican wolves when one is killed in the wild.
This is a great opportunity to see if the new livestock aversion methods are going to work.
Wolves are an apex predator and are vital to keeping our wildlands healthy, just as the wolves reintroduced into Yellowstone have done up there.
It's a trickle-down effect, and everything from insects to mammals to trees have gained ground because of them.
More wolves on the ground are needed so they don't try bonding with dogs like the one in New Mexico that was just shot and to diversify the bloodlines since they are the most endangered wolf in the world.
KATHLEEN CHEATHAM
Laveen
If you would like to submit a letter to the Arizona Republic,
click here
.
***********************************
Many thanks and congratulations to these talented and dedicated letter writers-your letters make a big difference in the effort to protect and recover our lobos!
We usually include a link for letters to the editor with the articles we post-please take advantage of these opportunities to advocate effectively for Mexican wolves. To learn more about submitting your own letters to the editor,
click here
.