In the Press: Lives of Rare Mexican Gray Wolf Pups at St. Louis-area Center to be Streamed Online
By Jim Salter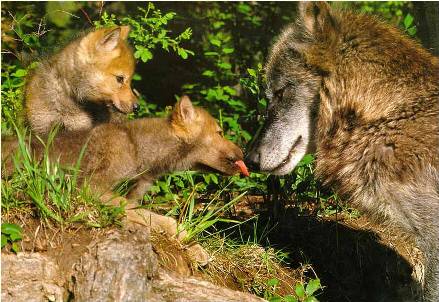 ST. LOUIS — The Endangered Wolf Center in suburban St. Louis is facing a financial crunch, and officials are hoping a set of cute newborn pups can help.
Six Mexican gray wolf pups were born May 1. The Mexican gray is an endangered species. The center is broadcasting streaming video of the pups on its website … , or visit their Facebook page ….
Ralph Pfremmer, board chairman of the Endangered Wolf Center, says officials hope the pups capture the public's attention like recent live video of bald eagle chicks and even common dogs. Pfremmer says the center needs significant donations to raise the pups and many other wolves at the center, with the goal of returning the animals to the wild.
Pfremmer said the video will provide a rare glimpse into the lives of wolves — how the pups interact with each other and with their parents.
"This will give everyone an opportunity to see these remarkable keystone predators inside the wolves' lair," Pfremmer said.
The pups are the second litter born to parents Perkins and Abby. Their first litter was born in 2010. The new pups consist of five females and one male. Only four litters of Mexican gray wolves have been born in 2011. "¦The new litter is wearing "pup radio" telemetry collars until they are about 7 months old. The collars will help biologists locate the pups and keep track of their progress. The center is participating in the program along with the U.S. Fish & Wildlife Service and the Wildlife Service of the U.S. Department of Agriculture.
The center said that only 20-40 percent of Mexican gray pups survive in the wild each year, and the Fish & Wildlife Service is unable to find the bodies to determine whether poaching, disease, predation or starvation is causing the deaths.
"What we do in captivity is diminished if we cannot understand how to help the wild population be strong and healthy," said Regina Mossotti, head of animal care at the St. Louis center. "¦
"Like many non-profits, the EWC is facing extremely challenging financial times," Pfremmer said. "We hope the public the world over will watch these adorable pups and find it in their hearts to help us be able to afford their care."
You can read the full article and post a comment here.
*********************************
You can help Mexican wolves to be strong and healthy and thrive in the wild. On June 9, the New Mexico Game Commission will meet; the Mexican wolf reintroduction program is on the agenda. The Commission may vote for policies that could be harmful to the wolves. If you're in New Mexico, please come to the rally/press conference for wolf supporters at 8 a.m. before the Commission meets. If you can't come to the rally or meeting, you can contact the Commissioners and tell them how important these critically endangered wolves are. More information is here.
Photo: Mexican gray wolf family, courtesy of the Endangered Wolf Center