Event: Don't let New Mexico pull the plug on endangered Mexican wolves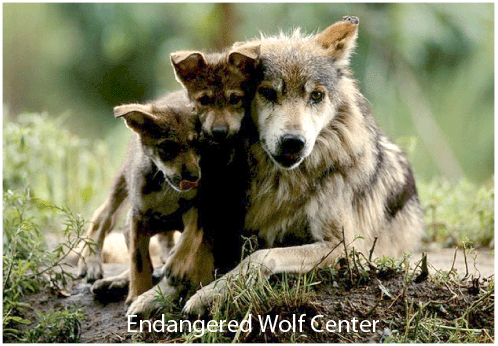 Critically endangered Mexican wolves are on the agenda at this week's NM Game Commission meeting in Las Cruces. There is a very real possibility that the new Governor, new Commission and wolf opponents will try to reverse New Mexico's strong support for wolf recovery in the Southwest.
To prevent this from happening, the Southwest Environmental Center and other wolf supporters have organized a rally and press conference prior to the Game Commission meeting to demonstrate broad public support for Mexican wolves. Please come to the rally to encourage the Commission to continue its support for the Mexican wolf reintroduction program.
Showing your support for wolves is critical at this time. Only around 50 Mexican wolves remain in the wild, and the Commissioners will be hearing from livestock interests and others who want the number of wolves to be zero.
 
The rally/press conference will be at 8 am on Thursday, June 9, at the entrance to the NM Farm and Ranch Heritage Museum. Commissioners will drive past us on their way to the meeting. There will be speakers, bagels and coffee.
Bring the kids! Bring friends! Make a sign! (We will have a sign-making party at the Southwest Environmental Center on Wednesday, 6/8 at 6 pm. Please join us!)
WHAT: Rally to support Mexican wolves prior to NM Game Commission meeting
WHEN: Thursday, June 9, Press Conference and Rally – 8 am
WHERE: NM Farm and Ranch Heritage Museum entrance (outside the main gate into the facility, just off Dripping Springs Road) 4100 Dripping Springs Road, Las Cruces, NM (See map here).  
We need a strong showing at this event. If you absolutely cannot make it, please contact the Commissioners and tell them how important wolves are to New Mexico.

If you can stay for the meeting, wolves can use help inside too. It starts at 9 am. The full meeting agenda is here.  Agenda item 12 is where Commissioners could reverse New Mexico's support for wolves.
Please sign up to speak briefly so Commissioners won't just hear from wolf-haters. We will have handouts with talking points, but you don't need to be an expert–just speak from the heart. Remember: the Game Commission represents ALL New Mexicans.
For more information, contact Kevin@wildmesquite.org or call (575) 522-5552. 
Thank you for taking action on behalf of the endangered Mexican wolf!
Photos in order: Mexican wolf family courtesy of the Endangered Wolf Center, Silver City demonstration for wolves courtesy of Jenny Robinson