In the Press: Endangered Species Hit Hard by Historic Arizona Fire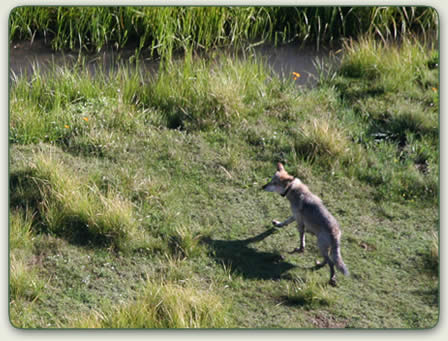 PHOENIX (AP) — The largest wildfire in Arizona history left a charred landscape of blackened forest, burned-out vehicle hulks and charred fireplaces as it destroyed more than 30 homes. It also inflicted a serious toll on an ecosystem that's home to numerous endangered species.
The flames spared three packs of endangered Mexican gray wolves but likely killed at least some threatened Mexican spotted owls as it roared through more than a half-million acres of a pristine forest on the New Mexico border.
Though some spots were untouched or had only undergrowth burn, the effect of the human-caused Wallow fire will last for decades because it burned so hot in many areas that it completely denuded the landscape, forest specialists said.
"¦
The three wolf packs in the Apache-Sitgreaves all had pups and were in or near their dens when the fire that broke out on May 29 roared through, said Jim Paxon, a spokesman for the Arizona Game and Fish Department. Firefighters on the ground have seen two of the packs moving around with their pups. Radio collars on the three adults in the third pack show they are alive, but the status of their pups remains unknown because they are in an area still too hot for ground crews to enter.
"They're there, and functioning, and able to persist and take care of their pups," Paxon said. "We feel very confident that our wolves are out there and they've all got pups, and that's a good thing."
The Fish and Wildlife Service said Thursday it had not confirmed the pups survived.
The wolves were reintroduced into Arizona and New Mexico beginning in 1998. Managers had hoped to have more than 100 in the wild by 2006, but the count stood at 42 at the beginning of 2010.
"¦
Fish and Wildlife is looking to see if prey for the wolves and owls will return quickly enough to let the animals stay in their regular areas.
The burned forest supports more than a dozen other endangered or threatened species, including snails, frogs and fish. Dozens of other species live in the forest that aren't rare, including bear, deer, antelope and a herd of elk that, at about 6,000, is among the state's biggest.
Only two dead elk have been found, Paxon said. A yearling calf had to be euthanized because its hooves were badly burned.
"These ungulates, the elk and the deer and the antelope, they're a whole lot smarter than people are when it comes to evacuations," Paxon said.
"When they feel heat, they will move away from heat toward a cooler area, and generally that's perpendicular to the way the fire's going. If it's not a huge fire, they often circle around and come back in. If it is a pretty widespread fire front, they simply get out in front of that and go over the hill into the next drainage."
"¦
"The forest will be very changed, very, very different," said Apache-Sitgreaves forest supervisor Chris Knopp.
Read the full article
here
: