In the News: New Round in Fight Over Wolves; Hearings on Proposal to Free Lobos in NM Start This Week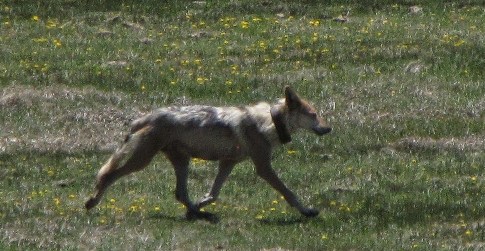 SANTA FE >> Another battle is beginning over the real New Mexico lobos.
The U.S. Fish and Wildlife Service will start public hearings this week on whether Mexican gray wolves can be released directly into New Mexico's Gila National Forest.
Only about 75 Mexican gray wolves live in the wilds of New Mexico and Arizona. Under existing federal rule, lobo reintroductions are limited to a part of Arizona that is in the Blue Range Wolf Recovery Area.
Lincoln County commissioners in September minced no words about their opposition to broadening the reintroduction of the Mexican Gray wolf in New Mexico. At the time, commissioners delayed signing a memorandum of understanding with the federal U.S. Fish and Wildlife Service.
"This is one more example of the federal government running our businesses and ruining them for us," said Commission Chairman Jackie Powell at the September meeting. "I think we should have as much involvement as we can have. Just being informed is not enough for me. Those wolves are in everybody's homes and killing their dogs. They don't know boundaries and lines and imaginary things."
The Center for Biological Diversity seven years ago sued the federal government to broaden the reintroduction range, arguing that this would reduce inbreeding and enable the Mexican wolf population to grow. Because of the suit, fish and wildlife executives agreed to consider the proposal.
Cattle growers and others in the livestock industry oppose expanding the area where lobos can be set free. They say the Mexican gray wolf is a predator costly to ranchers and dangerous to residents of rural areas.
Michael Robinson, of the Center for Biological Diversity, said Mexican wolves have struggled to reproduce because of too many government restrictions.
"The real urgency behind this is stopping the inbreeding. Direct release of families of wolves in New Mexico would strengthen the population," he said.
The federal rule keeping New Mexico off-limits as a direct point of release for wolves dates to 1998. But some of the 75 Mexican gray wolves live in the Gila or other parts of New Mexico, having crossed the Arizona line.
Federal records show that the Fish and Wildlife Service expected 18 breeding pairs of Mexican wolves in the wild by 2006. Today, only three breeding pairs exist, Robinson said.
The proposed rule change would require capture of wolves that rove beyond the borders of Interstates 10 and 40. This means Mexican gray wolves would be prevented from entering the Grand Canyon, southern Rockies and borderlands.
The first hearing of Fish and Wildlife's two hearings will be from 6 to 9 p.m. Wednesday at the Embassy Suites at 1000 Woodward Place NE in Downtown Albuquerque. Another will be from 6 to 8:30 p.m. Dec. 3 at the Hon-Dah Resort near Pinetop, Ariz., at the edge of the Fort Apache Indian Reservation.
A decision on whether wolves could be reintroduced directly in New Mexico would be issued by Jan. 12, 2015.
This article appeared in the following New Mexico papers;
Submit your letter to the Editor here.
Submit your letters to the Editor

here

.
Submit your letter to the Editor here.
******************************************************************************************************************************************************************************
PLEASE TAKE ACTION FOR MEXICAN WOLVES

You can help ensure the future of the lobo by attending one of the public hearings in Albuquerqueand Hon-Dah/Pinetop, by submitting comments to the Fish and Wildlife Service, and by writing a letter to the editor of the papers listed above.

One letter from you can reach thousands of people and will also likely be read by decision-makers.  Tips and talking points are below, but please write in your own words, from your own experience. Don't try to include all the talking points in your letter.

Talking points

While giving Mexican wolves their own Endangered Species Act listing is long overdue, delisting gray wolves throughout the U.S. is counter to protecting Mexican wolves.

The  proposed rule will leave gray wolves unprotected in places that scientists have said are needed for Mexican wolf recovery, making it more difficult to protect Mexican gray wolves even if they are allowed to expand into new areas.
The USFWS should move forward with allowing new wolves to be released throughout the Blue Range Wolf Recovery Area.

The Mexican gray wolf is the most endangered mammal in the U.S. with only about 75 in the wild.  Additional wolves must be released into the wild now to increase the genetic health of the species. Numerous wolves are in captive breeding facilities around the country, prepared for, and awaiting, release.
Wolves once lived throughout the west and played a critical role in keeping the balance of nature in place

. We need to restore this important animal that has been missing for too long.
Wolves need freedom from boundaries.

Given room to roam, the wolves will establish themselves in suitable areas with adequate game. The USFWS proposal does not allow wolves to establish new packs and populations in additional areas that are essential to their recovery.
Additional populations of Mexican wolves are necessary to their recovery and genetic health

, as is the ability for wolves to move between populations.
Capturing and moving wolves is always a risky business that can result in death or trauma to the wolf.
The USFWS should designate Mexican gray wolves as essential.

By labeling all of the wild wolves as "nonessential" the USFWS ignores science and the reality of 15 years of experience with reintroducing wolves.The 75 wolves in the wild have up to four generations of experience in establishing packs and raising pups and are over 22% of all of the Mexican wolves in the world.
The USFWS needs to quit stalling and complete a comprehensive recovery plan

at the same time as or before changing the current rule.
The likelihood of a person being hurt by a wolf is almost non-existent.

In rural areas, people are far more likely to be harmed by things accepted as part of daily life, such as domestic dogs, livestock, or off-road vehicles. Mexican wolves are small, weighing 50-85 pounds, and tend to avoid people.
Make sure you:

Thank the paper for publishing this article.
Include something about who you are and why you care

: E.g. "I am mother, outdoors person, teacher, business owner, scientific, religious, etc.)
Provide your name, phone number and address.

The paper won't publish these, but they want to know you are who you say you are.
Submit your letter to the Editor of the Las Cruces Sun News here.
Submit your letters to the Editor of the Ruidoso News here.
Submit your letter to the Editor of the Alamogordo News here.
Thank you for speaking out to save Mexican wolves!
__________________________________________________________________________________________________________________________

Click here to join our email list for Mexican gray wolf updates and action alerts.

Visit us on Facebook here.
Photo credit: Jean Ossorio