2013 Mexican Wolf Conservation Stamp — Limited Edition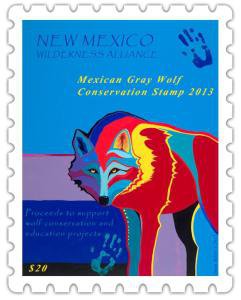 The 2013 Mexican Wolf Conservation Stamp, the third in an annual series of framing-quality art prints offered to collectors, is still available from the New Mexico Wilderness Alliance. The 2013 4.5×5.5 inch stamp was designed by artist Susan Miller.
The Mexican gray wolf is the most endangered wolf in the world, with a total population of 75 in the wild.
The Mexican Wolf Conservation Stamp is a conservation project created by the New Mexico Wilderness Alliance. The concept is similar to the Duck Stamp sold by the U.S. Fish & Wildlife Service, except no hunting will be related to the sale of the stamp. Instead, proceeds will be used for the Mexican Wolf Conservation Stamp Fund, administered by NM Wild and distributed to individuals and organizations working for Mexican gray wolf recovery.
Last year's grant went to a Mexican conservation group, Naturalia.
About the Artist:
Artist Susan Miller, of Cherokee and European descent, was born and raised in southwestern Oklahoma and studied art at the University of North Texas. Taos is now her home, where she lives with her husband David in their centuries old adobe house. Inspired daily by the heart-stopping beauty of northern New Mexico, Susan works primarily in acrylic, using vivid color to create large paintings on wood panels. Highly stylized wolves and coyotes are favorite subject matters, along with Native American motifs, inspired by her Cherokee heritage. Susan passionately supports the reintroduction of the Mexican Gray Wolf into the American Southwest, and believes in the importance of wolves to a healthy ecosystem. "In my paintings I try to convey my love and respect for the wolf, and to honor his strong and wild spirit."
Click here
to order your Limited Edition Collector Stamp.
Follow these links to purchase the 2012 and 2011 stamps;