In the News: Legislators Work to Cap Gray Wolves in Arizona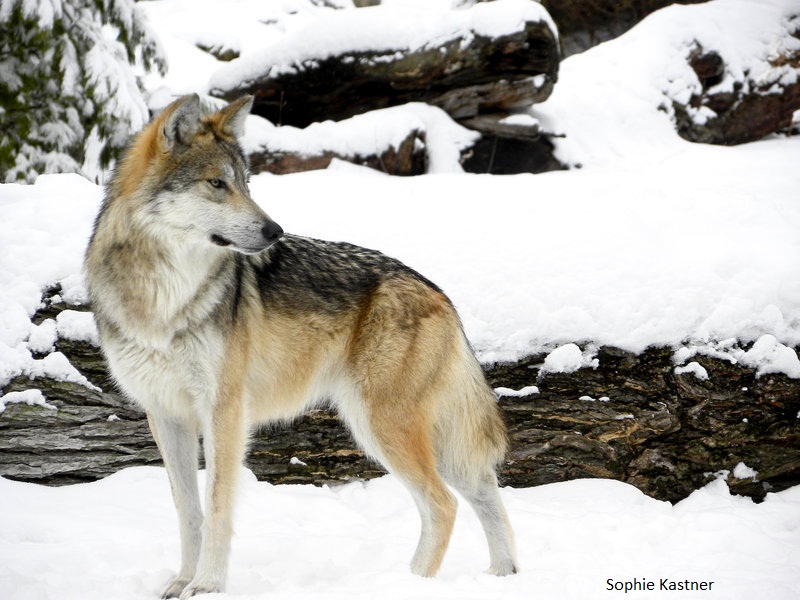 As federal biologists prepare to release two Mexican gray wolves from captivity to shore up a small but growing wild population in Arizona, state lawmakers are working to suppress the recovery and push future releases south into Mexico.
This week, the Arizona Senate handed the House measures seeking to broaden who can shoot endangered Mexican gray wolves, set aside $250,000 for litigation against any federal expansion of the wolf-recovery zone and to encourage that future wolf releases take place only south of the border.
Meanwhile, the U.S. Fish and Wildlife Service, in cooperation with the Arizona Game and Fish Department, is preparing to release by spring two captive-bred wolves — each paired with a mate captured from the wild — to infuse new genes into a wild population that numbered 83 (37 of them in Arizona) at last count this winter. They are to replace wolves that were shot illegally.
The Southwestern population grew by eight wolves last year. The recovery zone encompasses the Blue Range straddling Arizona and New Mexico.
"We built a whole industry without that predator population there," Sen. Chester Crandell, R-Heber, said in a committee hearing this month.
He was defending ranching and big-game hunting as they evolved after the Mexican gray wolf's extirpation and before its reintroduction 16 years ago.
Reintroduction threatens to upset the established balance, Crandell said.
"There's no way with the federal law to be able to control that, and that's why we have these bills right here," he said.
The bills — SB 1211, SB 1212 and SCR 1006 — together challenge the federal Endangered Species Act's requirement to preserve rare species.
The reintroduced population's experimental status allows shooting of problem wolves in select circumstances, and SB 1211 expands this ability to state agriculture officials. Federal officials last week declined to comment on the legislation but said state law would not shield wolf killers from investigation and prosecution.
SB 1211, as amended and passed by the Senate, requires state coordination with the U.S. Fish and Wildlife Service before shootings, softening one of the potential rifts with federal authority.
But it also expands the ability to kill problem wolves from private land to public land, in conflict with the federal rules for reintroduction.
The bills also seek to solidify an early goal of the federal program: to establish 100 wolves in Arizona and New Mexico. As the population approaches that number, lawmakers have sought to cap it there.
But a federal recovery plan that would specify the number needed to sustain the population has yet to be written, and some biologists who have worked to produce one have suggested that 750 wolves ranging from their current forested stronghold around the Arizona-New Mexico line to the Grand Canyon and southern Colorado could be necessary.
Federal wolf biologists have said the 100-wolf goal was never the benchmark for species recovery, but rather an initial rung on the ladder and one that seemed lofty considering that even captive wolves were down to a handful at the time.
"They're still teetering on the brink of a second extinction in the wild," said Sandy Bahr, director of the Sierra Club's Grand Canyon chapter. "This bill (SB 1211) demonstrates why we need the federal Endangered Species Act."
The coming releases would introduce the first new genes into an inbred population since 2008, after a couple of failed attempts last year.
"It's a very important first step," said Michael Robinson, a conservation advocate with the Center for Biological Diversity. "But two wolves isn't enough."
Releasing wolves into Mexican habitat, as Mexico now plans, is an important development, he said. But limiting all new releases to that turf, as Arizona lawmakers propose, would doom the U.S. population.
Robinson does not expect the state's legislation to change the federal program, though he said it could encourage more illegal shootings.
"There could be losses to wolves," he said. "But it's not going to wrest control of this program from federal officials, as the authors of this legislation fantasize."
Eva Sargent, Tucson-based Southwest program director for Defenders of Wildlife, said: "It is clear that wolves belong in our state and that people want them here."
She noted that polls have indicated strong majorities in both Arizona and New Mexico supporting wolf restoration.
"Why are our legislators wasting taxpayer dollars to amass a war chest for litigation against an animal that most citizens like," she asked, "instead of allocating funds to crucial issues like jobs and clean energy?"
But Greenlee County rancher Chase Caldwell, who said he removed livestock from his ranch after losing calves to reintroduced wolves, told senators that livestock producers need protection from more than just predators. They want relief from a "heavy-handed program."
"We are not against wolves or any other predators or any wildlife species," he said. "(But) we would be wise to be cautious before unleashing this program on other ranch communities in our state."
***********************************************************************************************************************************************
Please Act Today to stop these
If you don't live in AZ, you can still help by submitting a letter to the editor.
The letters to the editor page is one of the most widely read, influential parts of the newspaper. One letter from you can reach thousands of people and will also likely be read by decision-makers. Tips and talking points for writing your letter are below, but please write in your own words, from your own experience. These are also good talking points for contacting your legislators.
Letter Writing Tips & Talking Points
At last official count, only 37 Mexican gray wolves were found in AZ, and only 83 were found total in the wild, making them critically endangered. We have a moral obligation to do everything we can to ensure their recovery and not push them closer to extinction as these bills aim to do. 

The proposed legislation will waste taxpayer money on litigation to impede wolf recovery and embarrass the state by attempting to illegally override federal laws that protect endangered species. 

Polling showed 77% of Arizona voters support the Mexican wolf reintroduction. Legislation to impede wolf recovery is a slap in the face to the majority of voters who want wolves to thrive.

People who care about wolves should call on their AZ House members to oppose anti-wolf measures. Information about how to do that is at mexicanwolves.org.

Wildlife biologists believe that Mexican wolves will improve the overall health of the Southwest and its rivers and streams — just as the return of gray wolves to Yellowstone has helped restore balance to its lands and waters.

Wolves generate economic benefits – a University of Montana study found that visitors who come to see wolves in Yellowstone contribute roughly $35.5 million annually to the regional economy.

Wolves once lived throughout Arizona and played a critical role in keeping the balance of nature in place. We need to restore this important animal that has been missing for too long.

The livestock industry has a responsibility to share public lands with wolves and other wildlife. Funds are available to help livestock growers implement nonlethal deterrents, better animal husbandry practices, and other innovative tools that minimize conflict.
Make sure you:
Thank the paper for publishing the article.

Do not repeat any negative messages, such as "cows may have been killed by wolves, but"¦" Remember that those reading your letter will not be looking at the article it responds to, so this is an opportunity to get out positive messages about wolf recovery rather than to argue with the original article.

Keep your letter brief, between 150-300 words.

Include something about who you are and why you care: E.g. "I am a mother, outdoors person, teacher, business owner, scientific, religious, etc."

Provide your name, address, phone number and address. The paper won't publish these, but they want to know you are who you say you are.
Please also contact AZ House members directly and tell them politely that you expect them to oppose these bills that embarrass Arizona, waste taxpayer money and fly in the face of overwhelming majority public support for wolf recovery.
CLICK HERE to learn more about the proposed anti-Mexican wolf measures.
Thank you for speaking out to save Mexican wolves!
___________________________________________________________________________________________________________________________
Click here to join our email list for Mexican gray wolf updates and action alerts.

Visit us on Facebook here.
Photo credit: Amber Legras