In the News: Bob Thorpe Trims Wolf Proposal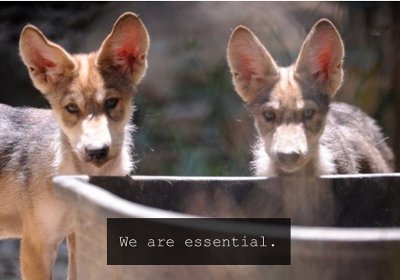 State Rep. Bob Thorpe, R-Flagstaff, said he's amending a bill he introduced last week that aims to end the Endangered Species Act in Arizona and deport some of the endangered animals.
Thorpe said he introduced the bill after talking to the cattle industry about problems they perceive with the Mexican gray wolf program. His bill would stop state participation in programs that were not "cooperatively implemented" with the state and then require the Arizona legislature to approve any future endangered species programs. It would also demand that the federal government pay off any rancher who has lost livestock to a wolf.
"The intent is to destroy the Mexican gray wolf population," said Michael Robinson of the Center for Biological Diversity.
HB2699 made it out of the House Federalism and Fiscal Responsibility Committee last week.
But the Arizona Game and Fish Department has already persuaded him to substantially change his bill. Thorpe said he's now amending the legislation, removing two-thirds of the language.
He's leaving the part creating a state-distributed cattle reimbursement program with federal dollars.
"The Mexican gray wolf is very unusual in that I would say the majority of just about every endangered species (program) is dealing with a species that is currently residing here in the state, whereas the Mexican gray wolf is a completely new population," Thorpe said.
The mammal, which is smaller and more colorful than its cousins, was hunted to extinction in the wild. The federal government's Mexican Gray Wolf Recovery Program reintroduced 11 captured animals to a small sliver of land in 1998, where they slowly grew to a population of 83. The government is now considering allowing the wolf to roam a much larger range of Arizona and New Mexico, ranging from Interstate 10 to Interstate 40.
That proposal is not popular with many ranchers.
A cow can sell for $800 to $1,000, so just one lost cow can be detrimental to a rancher, Thorpe said. No one is tracking the number of wolf depredation claims made by ranchers, but conservationists say the number is minuscule. Most cattle are killed by disease and other animals with much larger populations, such as coyotes or mountain lions.
But Thorpe said he is also worried the creatures might be dangerous. Only a few wolf attacks have been recorded in the United States over the last century, but in some parts of New Mexico, residents have erected "wolf cages" around school bus stops.
Thorpe claimed the reintroduction process had wolves around humans too often and they became comfortable.
"Game and Fish expressed concerns to me that the wolves are not as predictable as a wild wolf would normally be," he said.
Environmentalists accuse Thorpe of political posturing, claiming the bill was poorly written and designed simply to send a message.
"These kind of shenanigans, even though they're Looney Tunes and unconstitutional, come against the backdrop of a beautiful animal that is up against extinction because of mismanagement and the need for more tolerance and less trapping and shooting," Robinson said.
Game and Fish also told Thorpe that the original bill would compromise tens of millions of dollars in federal aid given to the state for protecting endangered species and habitat restoration under their many cooperative agreements. Those programs include the California condor, black-footed ferret, Chiricahua leopard frog, native fish, and other species.
"Are they really going to put at risk all those programs as well just to thumb their nose at the federal government?" asked Sandy Bahr, director of the Sierra Club's Grand Canyon Chapter.
Robinson added that the state would likely have a hard time rounding up all the endangered frogs to remove them from the state, but that the ferrets, prairie dogs and wolves could likely be wiped out with poison and firearms, as they had been in the past.
"All of these actions would be contrary to federal law," Robinson pointed out. "There would be lots of people subject to federal charges."
The amended bill still contradicts federal supremacy and would likely be ruled unconstitutional, Robinson said, pointing out that the state can't demand Congress give it funds.
"I really don't know what the case law is on something like this," Thorpe told the Daily Sun, "but I'm going to try my best to encourage the federal government to do this. From a private property standpoint I think we can make a strong case."
Thorpe has pushed other recent legislation that challenges federal supremacy in environmental matters. The Flagstaff state representative also introduced legislation this month that would assert Arizona's right as a sovereign state to choose whether it cooperates with the Environmental Protection Agency on air quality standards established under the Clean Air Act. He said the purpose of that bill is to allow for distinguishing between "emissions and naturally occurring airborne dust."
"It's almost laughable," Bahr said. "It would be laughable if it wasn't for the fact he's serious about it. This idea that just because you don't like a part species it should be removed from the face of the Earth — we've gotten past that. That's why we have the Endangered Species Act, which was passed by the U.S. Congress and is approved of by the people — including the people of Arizona."
She cited public polling showing support for wolf recovery in Arizona.
Bahr said the federal government is not required to pay ranchers for lost livestock. She added that the ranchers get to use public land with generous subsidies. There are a number of programs established to compensate ranchers for lost livestock, as well as provide monetary incentives to take steps to help prevent livestock kills by wolves.
"It'll be an interesting challenge to see if the federal government will be easily convinced or not," Thorpe said. "I think it's the right thing to do."
~~~~~~~~~~~~~~~~~~~~~~~~~
Please Act Today to stop this
The letters to the editor page is one of the most widely read, influential parts of the newspaper. One letter from you can reach thousands of people and will also likely be read by decision-makers. Tips and talking points for writing your letter are below, but please write in your own words, from your own experience. These are also good talking points for contacting your legislators.
Letter Writing Tips & Talking Points
At last official count, only 37 Mexican gray wolves were found in AZ, and only 83 were found total in the wild, making them critically endangered. We have a moral obligation to do everything we can to ensure their recovery and not push them closer to extinction, as this bill aims to do. 

The proposed legislation will embarrass the state by attempting to illegally override federal laws that protect endangered species. 

Polling showed 77% of Arizona voters support the Mexican wolf reintroduction. Legislation to impede wolf recovery is a slap in the face to the majority of voters who want wolves to thrive.

People who care about wolves should call on their AZ House members to oppose anti-wolf measures. Information about how to do that is at mexicanwolves.org.

Wildlife biologists believe that Mexican wolves will improve the overall health of the Southwest and its rivers and streams — just as the return of gray wolves to Yellowstone has helped restore balance to its lands and waters.

Wolves generate economic benefits – a University of Montana study found that visitors who come to see wolves in Yellowstone contribute roughly $35.5 million annually to the regional economy.

Wolves once lived throughout Arizona and played a critical role in keeping the balance of nature in place. We need to restore this important animal that has been missing for too long.

The livestock industry has a responsibility to share public lands with wolves and other wildlife. Funds are available to help livestock growers implement nonlethal deterrents, better animal husbandry practices, and other innovative tools that minimize conflict.
Make sure you:
Thank the paper for publishing the article.

Do not repeat any negative messages, such as "cows may have been killed by wolves, but"¦" Remember that those reading your letter will not be looking at the article it responds to, so this is an opportunity to get out positive messages about wolf recovery rather than to argue with the original article.

Keep your letter brief, between 150-300 words.

Include something about who you are and why you care: E.g. "I am a mother, outdoors person, teacher, business owner, scientific, religious, etc."

Provide your name, address, phone number and address. The paper won't publish these, but they want to know you are who you say you are.
Please also contact AZ House members directly and tell them politely that you expect them to oppose this bill that embarrasses Arizona, wastes taxpayer money and flies in the face of overwhelming majority public support for wolf recovery.
CLICK HERE to learn more about additional  anti-Mexican wolf measures before the Arizona Legislature.
Thank you for speaking out to save Mexican wolves!
______________________________________________________________________________
Click here to join our email list for Mexican gray wolf updates and action alerts.
Visit us on Facebook here.
Photo credit: Erin McCraken, MeskerZoo