In the News: Genetics research verifies Mexican wolf purity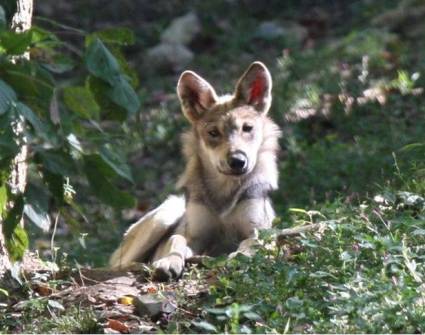 Genetics research undertaken at the University of Arizona last month was able to prove the purity of the Mexican wolf, a new report stated.
One of more than 40 endangered animals listed in the state of Arizona, the wolf has been part of a captive breeding program for decades, and the purity of its lineage is a great concern to conservationists and legislators as they make policy concerning the animal.
"It's a question that's been brought up since before the captive breeding population started," U of A alumnus and member of Duke University Department of Biology Bob Fitak said in a release from the university.
Fitak wrote his dissertation on the wolf while working in Melanie Culver's genetics lab at the University.
"Are we dealing with something that is actually a Mexican wolf, or is it something a bit different?" he asked.
The question of how closely the modern wolf resembled domestic dogs was answered thanks to advances in technology that allowed Fitak to examine a broader ranger of genetic material than ever before.
"Wolves are pretty unique because we had a really interesting Mexican wolf population, and we had some new tools from dogs that we could use to study them in a way that hadn't been done before," Fitak said.
Using single nucleotide polymorphisms chips, Fitak was able to examine more than 172,000 biological markers in the wolf DNA, as opposed to a couple dozen before the technology. The result showed that the modern wolf has only about .06 percent common ancestry with domestic dogs, fitting the predictive model and signifying no hybridization taking place.
The large amount of genetic data on the wolves that Fitak and his colleagues Culver and Sarah Rinkevich, with U.S. Fish & Wildlife, amassed is now publicly available to all geneticists.
The U of A speculated Fitak may take a deeper look into patterns of inbreeding in the captive program in the future.