Guest Column: NM trapping laws not in step with NM values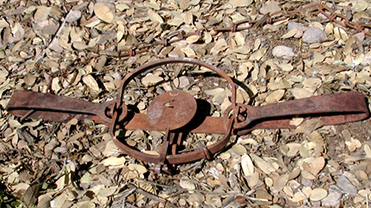 The public only recently learned that a man intentionally set a leg-hold trap on public land to illegally capture an endangered Mexican wolf in 2015 ("Catron County man pleads guilty to killing Mexican gray wolf," Albuquerque Journal, May 25). Once captured, still pinned by the trap, the wolf was beaten to death with a shovel by the trapper.
The gruesome manner in which this wolf died is startlingly common and accepted in the fur-trapping trade, and countless other wild animals die every year in nearly the exact same way.
News of the wolf's death came at the tail end of a brutal New Mexico trapping season. For most species allowed to be trapped, there is no limit to how many can be killed and some can be trapped year-round. The law says practically nothing about permitted killing methods — and because bullets damage valuable pelts, many trappers bludgeon, strangle, suffocate or drown the animals.
Trappers claim traps are humane and selective, but this is baseless rhetoric easily refuted with hard evidence and real stories.
This past 2017-18 New Mexico trapping season alone, at least three endangered Mexican wolves were caught in traps — only 114 exist in the wild, 51 of which live in New Mexico. One was a female pup who lost her leg due to the trapping injury. Another wolf was released on site by the trapper, but was found dead a short time later. Federal law prohibits harming endangered wildlife, but traps indiscriminately clamp down on whatever steps a foot between the metal jaws.
In this same time period, almost a dozen hikers' dogs — both off- and on-leash — were caught in traps, as well, leading to injuries and veterinary bills.
In March 2018, a tourist riding her horse in a wash north of Aztec discovered a raven on the ground with a metal trap around its now-mutilated leg, covered in blood. She was able to release the raven from the trap and she contacted Animal Protection of New Mexico's Cruelty Hotline for assistance with reporting the incident to the correct authorities. It was shocking to learn that the trapper's capture of the raven in the trap was perfectly legal — but, technically, the good Samaritan's release of the raven from the trap was in violation of state regulations and subject to criminal charges.
In two separate incidents in April 2018, residents found the bodies of trapping victims left on the land. In Socorro County, a pile of coyote, fox and bobcat carcasses was found in a ravine next to a public road — skinned, with bones and limbs left to rot. While this is an appalling sight to see, this type of carcass dump is considered by trappers as a best practice. Near Magdalena, a decomposing bobcat washed up along a creek bed with a trap still attached to her foot. With trap-check regulations nearly impossible to enforce by our state's small team of game wardens, this bobcat is one of many animals that die of dehydration, predation, hypothermia, drowning in a waterway or starvation while caught in a trap.
It is long past time for New Mexico to ban leg-hold and other body-crushing traps on public lands — except when absolutely necessary, such as immediate public safety risks or when critical scientific research is warranted, and then conducted only by qualified professionals. Recreational trapping should be a relic of the past. Scientific studies show that trapping is often ineffective or counterintuitive to population control efforts. Myriad other tools exist for government agencies and sportsmen to conduct day-to-day wildlife population management or hunt.
Traps are cruel, non-selective and outdated. A 2015 poll showed most New Mexico voters agree: They oppose trapping on public land by more than a three-to-one margin. We need policymakers to step up and bring our laws in line with our values.
New Mexico public lands should be safe and humane — for every living being.
~~~~~~~~~~~~~~~~
The letters to the editor page is one of the most widely read, influential parts of the newspaper. One letter from you can reach thousands of people and will also likely be read by decision-makers.  Tips for writing your letter are below, but please write in your own words, from your own experience.  Don't try to include all the talking points in your letter.
Letter Writing Tips & Talking Points
Leg hold traps are inhumane and have been banned in over 85 Countries and several states, including Arizona.
Leg hold traps pose a significant risk to endangered Mexican Gray wolves, pets, and the Public. With traps hidden throughout lobo habitat, it takes just one wrong step to ensnare a wolf, maiming it and potentially ending its life in the wild.
New Mexico permits trapping in the Mexican gray wolf recovery area, but the Endangered Species Act prohibits trapping of protected species.  As an Endangered Species, Mexican gray wolves should not be subjected to trapping.
Cruel, indiscriminate traps set in the Mexican gray wolf recovery area have harmed over a dozen wolves. Traps have injured or killed 18 Mexican gray wolves since 2002. Two wolves died. Three had entire limbs amputated. One endured a partial foot amputation.
"¢ Thank the paper for publishing the article
"¢ Submit your letter as soon as possible. The chance of your letter being published declines after a day or two since the article was published
"¢ Do not repeat any negative messages from the article, such as "so and so said that wolves kill too many cows, but"¦"  Remember that those reading your letter will not be looking at the article it responds to, so this is an opportunity to get out positive messages about wolf recovery rather than to argue with the original article
"¢ Keep your letter brief, under 150 words
"¢ Include something about who you are and why you care: E.g. "I am a mother, outdoors person, teacher, business owner, scientific, religious, etc."
"¢ Provide your name, address, phone number, and address.  The paper won't publish these, but they want to know you are who you say you are.
Do more to ban trapping on public lands