In the News: Endangered Wolf Leaving Brookfield Zoo to Enter the Wild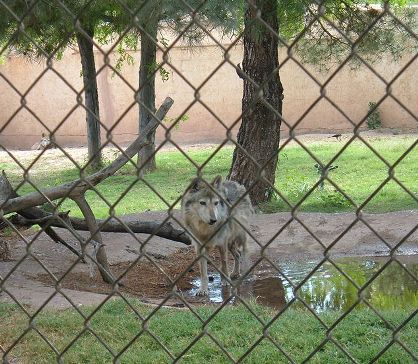 A Mexican gray wolf who has lived at Brookfield Zoo since 2010 will leave this week to prepare to enter the wild, joining 58 of the endangered animals roaming free in New Mexico and Arizona.
On Saturday, Ernesta will be taken to U.S. Fish & Wildlife Service's Wolf Management Facility at the Sevilleta National Wildlife Refuge near Socorro, NM, according to the Chicago Zoological Society. The goal is to bolster the population of a species once on the verge of extinction.
She will then choose a mate and the pair will receive survival skills conditioning — a sort of pre-release boot camp — to prepare them for life in the wild, according to a release from CZS.
The boot camp is to assure the wolves are good candidates for release. Biologists will observe Ernesta and her mate as they slowly transition to feedings that mimic wild wolf food patterns, such as eating native prey (road-kill deer and elk); and experience the natural condition of feeding only every several days, the release said.
They will also go through a process of taste aversion to beef so they will avoid cattle ranches once released.
Natural wolf behaviors have been encouraged since Ernesta first arrived at Brookfield Zoo, the release said. This includes keepers not interacting with wolves; and feeding them native prey such as elk and bison.
Their habitats are designed to mimic the wild environment, with heated rocks, pools and loose dirt; dens and tunnels of the size they can dig themselves; and buildings that blend in with nature so they don't associate manmade structures with shelter or food.
Two potential mate have been chosen from the Endangered Wolf Center in Eureka, Mo., where Ernesta was born in April 2008 before coming to Brookfield Zoo with eight litter mates, who will remain at the zoo, the release said.
Mexican gray wolves are the rarest and most genetically distinct subspecies of wolf in North American gray wolves, and were listed as endangered 1976, the release said. There are 283 Mexican wolves living in captivity in the United States, and at ;east 58 were counted living in the wild in 2011. Five more were released later that year.
"Just a few decades ago, the Association of Zoos and Aquariums' Mexican Gray Wolf Species Survival Plan was put in place to save the wolves from absolute extinction," Joan Daniels Tantillo, CZS associate curator of mammals, said in a statement.
"Ernesta's potential transfer into the wild is an important step to help foster genetic diversity within the re-introduced population to allow this species to survive."
This article appeared in several papers around the country.  Please submit letters to the editor of these papers:
Las Cruces Sun News
PLEASE WRITE A LETTER TO THE EDITOR THANKING THE PAPER FOR THIS ARTICLE AND SUPPORTING GREATER PROTECTIONS FOR ENDANGERED MEXICAN WOLVES.
The letters to the editor page is one of the most widely read, influential parts of the newspaper. One letter from you can reach thousands of people and will also likely be read by the U.S. Fish and Wildlife Service.  Tips for writing your letter are below, but please write in your own words, from your own experience.
Letter writing tips can be found here.
CLICK HERE to join our email list to stay informed and get more involved with efforts to recover Mexican wolves from the brink of extinction.
Photo credit:  Allen S.