In the News: Cross-fostering focus of 2018 wolf release plan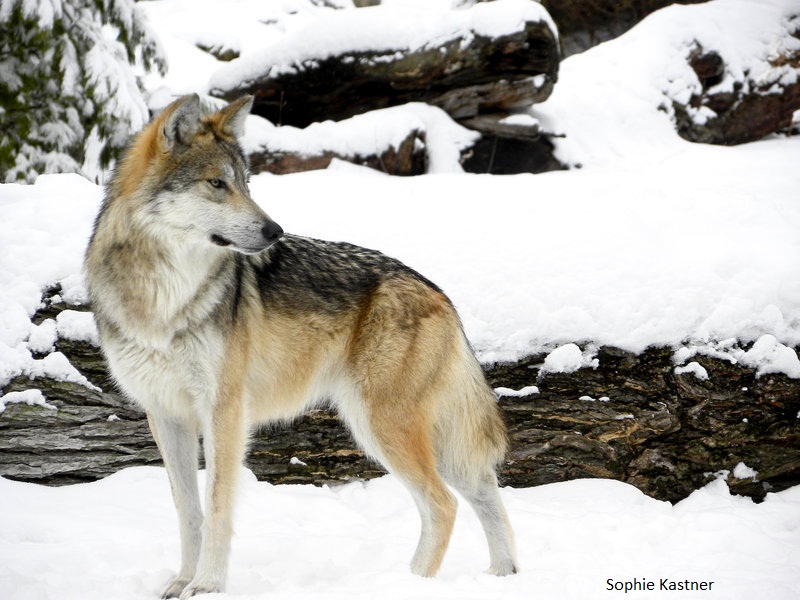 ALBUQUERQUE, N.M. — The U.S. Fish and Wildlife Service is seeking public comment on its 2018 Mexican wolf release and translocation plan.
The plan proposes the cross-fostering of up to 12 pups into as many as six wild wolf packs throughout the wolf's experimental range in New Mexico and Arizona.
Cross-fostering involves placing pups born in captivity into dens to be raised by wild wolves.
The plan also provides for the translocation of wolves who stray outside the experimental range or which may be at risk of mating with closely-related wolves in the area.
"The ultimate success of an initial release, translocation, or cross-foster occurs when those animals survive and produce pups in the wild," the plan reads.
No initial releases, where an adult with no prior experience in the wild is released, are proposed for 2018.
During a conference call on the newly finalized recovery plan for the subspecies last week, FWS Mexican wolf recovery coordinator Sherry Barrett said they are hopeful that cross-fostering, a relatively new method for Mexican wolf recovery, will be identified as a successful technique once more data is collected.
Of the eight pups cross-fostered since 2014, at least four survived until the end of the year they were placed in dens, according to the release plan, and some have since bred and had pups of their own.
"Collectively, these results are encouraging and suggest that the Mexican Wolf Recovery Program should continue to utilize cross-fostering as a strategy to increase genetic diversity of the wild wolf population," the plan reads.
It's not known exactly where the pups will be placed, but seven New Mexico packs are being considered along with five in Arizona.
The plan also provides for the capture of a female in Arizona who is at risk of breeding with a full sibling.
After her capture, she will be artificially inseminated or bred with a captive male, then released back to the pack.
Genetic diversity remains a key concern in the wolf's recovery as the current population is descended from the same seven animals.
The Mexican Wolf Interagency Field Team has released 108 captive-raised wolves into the wild and translocated 121 wolves since 1998.
Public comments will be accepted through Dec. 26.
Show your support for Mexican wolves with a Letter to the Editor today!
The letters to the editor page is one of the most widely read, influential parts of the newspaper. One letter from you can reach thousands of people and will also likely be read by decision-makers.  Tips for writing your letter are below, but please write in your own words, from your own experience.  Don't try to include all the talking points in your letter.
Letter Writing Tips & Talking Points
The U.S. Fish and Wildlife Service should include family groups in their release plan. Recovery won't succeed unless they use all tools available to them, including the proven method of releasing family groups that include adult wolves.
Cross fostering is one tool for improving the wild population's genetic health, but it's not enough.  Many more wolves should be released this year from the hundreds in captive breeding programs.  Rather than relying solely on cross-fostering, the Service should also release adults and families of wolves from captivity.
Cross fostered pups will not contribute genetically to the wild population until they reach breeding age (2 years).  The release of adults from the captive breeding program would result in a faster infusion of new genetics into the wild population.
The wild population of Mexican wolves is at tremendous risk due to its small size and genetics.  There are hundreds of wolves in the captive breeding program whose genes are not represented in the wild population.
If captive pups were to be released with their parents, that would immediately put more genetically diverse, breeding wolves into the wild, instead of having to wait for the pups to reach breeding age and mate, which would take two or more years.
"¢ Thank the paper for publishing the article
"¢ Submit your letter as soon as possible. The chance of your letter being published declines after a day or two since the article was published
"¢ Do not repeat any negative messages from the article, such as "so and so said that wolves kill too many cows, but"¦"  Remember that those reading your letter will not be looking at the article it responds to, so this is an opportunity to get out positive messages about wolf recovery rather than to argue with the original article
"¢ Keep your letter brief, under 350 words
"¢ Include something about who you are and why you care: E.g. "I am a mother, outdoors person, teacher, business owner, scientific, religious, etc."
"¢ Provide your name, address, phone number, and address.  The paper won't publish these, but they want to know you are who you say you are.
The wolf release plan will be open for public comment until Dec. 26.
Mexican Wolf Recovery Program, Attn: 2017 Proposed Releases in NM