In the News: 2018 Plan for Mexican Wolves Calls for Fostering of Pups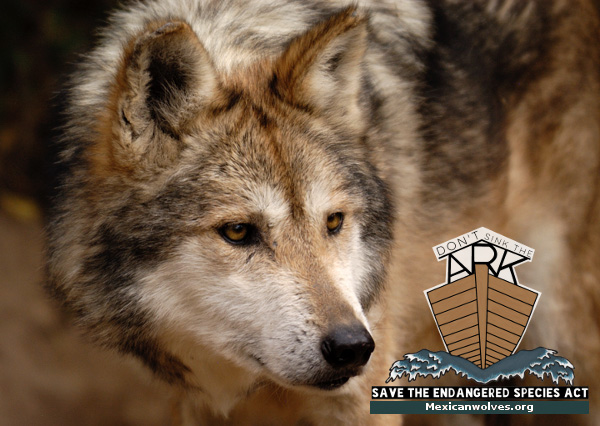 ALBUQUERQUE, N.M. (AP) — U.S. wildlife officials have a plan for fostering as many as a dozen captive Mexican gray wolf pups with wild packs in Arizona and New Mexico in 2018.
The goal of the proposal unveiled by the U.S. Fish and Wildlife Service is to boost genetic diversity among the endangered species.
Aside from fostering, managers want to remove a female wolf from a pack in Arizona to prevent it from mating with a sibling.
During a temporary stint in captivity, the wolf either would be artificially inseminated or allowed to mate with another captive wolf before being released back into the wild.
The Mexican wolf is threatened by what biologists call a genetic bottleneck since today's population was built upon only seven founding animals. For that reason, officials say the captive population is carefully managed to increase genetic diversity by establishing breeding pairs based on kinship, or the lack of relation to one another.
In the wild, officials say the probability is high for inbreeding among natural pairs since many of the wolves are related to a single female descendant.
"Release of wolves from the more genetically diverse captive population is necessary to decrease the overall relatedness among wolves in the wild population and to meet the objectives of the Mexican wolf recovery plan," the proposal states.
Placing captive pups with wild packs — or cross-fostering — can help do that, officials said.
Environmentalists contend this year's proposal falls short.
"There's no good reason that these pups couldn't be released with their parents and, in fact, releases of family packs were successful for the first few years of the reintroduction program," said Michael Robinson with the Center for Biological Diversity.
Robinson also voiced concerns that the agency's proposal for 2017 called for releasing two family packs into the Gila National Forest in southwestern New Mexico and up to 10 pups in New Mexico and Arizona. Instead, only four pups were fostered.
Ranchers have been critical, saying more wolves on the land increases the threat to their livelihood as the predators have been known to kill livestock and game animals.
Federal officials are working to mitigate conflicts with landowners through efforts such as supplemental feeding. They also say releasing adult wolves that have no experience in the wild leads to more management challenges.
Over the past decade, the Fish and Wildlife Service has released 108 wolves. The most recent survey in early 2017 showed there were at least 113 wolves in the wild in Arizona and New Mexico and another 31 in northern Mexico.
The public has until Dec. 26 to comment on the proposal.
This article was published in U.S. News & World Report
The wolf release plan will be open for public comment until Dec. 26.
Mexican Wolf Recovery Program, Attn: 2017 Proposed Releases in NM