Elections are coming up and candidates are out stumping for votes.
Tell them you support wolves by wearing one of these "I'm pro-wolf and I vote" images on your clothing. 
We've made these images available in two sizes and a variety of colors so you can print them out on paper and attach them with a pin, or print them on sticker or label paper. Please spread these around in your community and urge everyone to wear them to candidate events.
You can also spread the word by using one of these as your Facebook profile photo from now until the election.

Approximately 2″ by 3.5″

Blue background, red and white –  download here.
Red, white and blue — download here.
Black and white — download here.
Eight to a page, black on white background — download here.
Approximately 3″ by 4″
Red background – download here.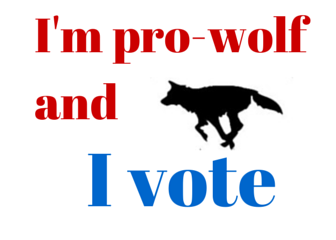 Red, white and blue — download here.
White on black background — download here.
Four to a page, white on black background-download here.
Protection of wolves and wildlife should be an important issue for those who want positions of public trust. So make sure those who want your vote know this just by looking at you!
______________________________________________________________
Click here to join our email list for Mexican gray wolf updates and action alerts. 
Visit us on Facebook here. 
Donate to support our work for Mexican gray wolf recovery here.