Guest Column: Another Santa Fe Fable – What big teeth you have!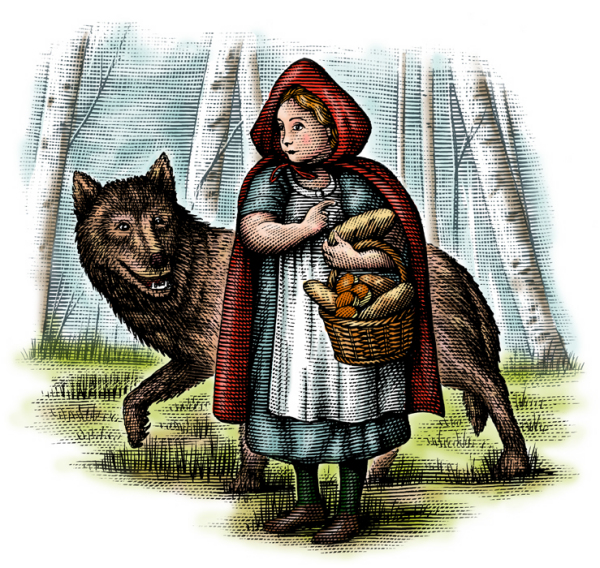 Once upon a time in Santa Fe, there lived a girl named Little Red Riding Hood.
She lived with her mother and sisters near some popular hiking trails in a thick forest, in a pueblo-style cottage that cost thrice what it would have been worth anyplace else, because, you know, it's Santa Fe and they had a good view.
Life was wonderful, and Little Red Riding Hood was happy, except for being stuck with the insensitive first name of Little.
In fairness, she had sisters named Wart Face and Grunt Breath, so by comparison, Little wasn't so awful.
Like most children, the only thing Little knew for sure was that wolves were her mortal enemy. Raised on a steady diet of propaganda like "The Three Little Pigs," "Peter and the Wolf" and "The Boy Who Cried Wolf," she believed wolves ate children all day long.
Little had a grandmother who lived at the other end of the trail and who was kind of demanding.
"Little," her mother said one day, "Granny isn't feeling well. She would like some seven-layer dip from Albertsons, a fried oyster sandwich from Shake Foundation and a huge pitcher of margaritas from the Shed."
"What's that got to do with me?" Little asked.
"I'm going to drive into town and pick up those things, and then you can carry them along the trail to her cottage," Mother answered.
Little was puzzled. "Can't you just drive them over to Granny's your own self?"
"Yes, but that wouldn't advance the plot of this story, would it? Oh, and is that red cape really what you're wearing today?"
I should mention that the mother was rather passive-aggressive.
Two hours later, Little was skipping along the trail to Granny's cottage, carrying her food and beverage basket. Suddenly, a large wolf stepped into her path.
"Oh! Mr. Wolf! You're going to eat me!" she cried.
"On the contrary," the wolf replied. "Wolf attacks on humans are extremely rare, and I'll do no such thing."
Little was skeptical. "What do you want, then?"
"Well, that food smells very good, and I'm expecting the US Fish & Wildlife people to release ten new wolves in New Mexico soon. It would be nice to welcome them with nourishment."
Suddenly, Little felt sad. "I'm so sorry to tell you this, but there was a New Mexico Game Commission hearing recently in Santa Fe, and it doesn't look good. The state is trying very hard to keep those new wolves from being released, in spite of the crucial role they play in our biodiversity system."
"But surely there are intelligent, well-informed people making this decision," said the wolf.
Little looked embarrassed. "I went to the hearing. Some of the officials arguing against the release plan kept saying 'wolfs' and 'woofs' instead of 'wolves,' so you do the math about their intelligence"¦
"Plus, from the comments the commissioners made, I think they are going to side with a few ranchers and hunters, rather than supporters of wildlife," she added.
Hearing that, the wolf looked so dejected that Little gave him the seven-layer dip and the oyster sandwich to share with his family.
She felt it was the very least she could do in a state where, when it comes to animals, we often do far less than the very least we can do.
Oh, and about Granny: She had to make do with the pitcher of margaritas and an old carton of Chunky Monkey she found in the back of her freezer. As dinners go, she could have done a lot worse.
~~~~~~~~~~~~~~~~~~~~~~~~~~
While this column provides some comic relief to the troubling state of wolves in New Mexico, the fact remains that the NM Game Commission is trying to halt the release of all Mexican gray wolves in New Mexico. We need to let the public know more about the Game Commission's attempt to sabotage lobo survival. Please take a stand now with a letter to the editor!
The letters to the editor page is one of the most widely read, influential parts of the newspaper. One letter from you can reach thousands of people and will also likely be read by decision-makers. Tips and talking points for writing your letter are below, but please write in your own words, from your own experience.
The actions of Governor Martinez's Game Commission to thwart the recovery of Mexican gray wolves are childish and violate the public trust.
In recent polls, the great majority of New Mexicans support lobo recovery.
Folks should show up at the Commission meeting on the 29th and be heard — the wolves can't speak so we must speak for them.
At last official count, only 110 Mexican gray wolves were found in the wild, making them one of the most endangered wolves in the world. Actions such as NM Game Commission's unwarranted denial of release permits will only further complicate efforts to recover these rare wolves.
The New Mexico Game Commission, under Governor Martinez, has clearly become a tool of a small anti-wolf minority and its actions are out of touch with the majority of New Mexico voters who support wolf recovery and understand the important role top carnivores play in our ecosystems.
Wolves are a benefit to the West and are essential to restoring the balance of nature. Actions to interfere with the Mexican gray wolf's survival and recovery cheat us all of the opportunity to have wolves returned to their critical natural role.
Mexican gray wolves are unique native animals. They are the rarest, most genetically distinct subspecies of gray wolf in North America. State and federal agencies should do all in their power to move these special wolves away from extinction towards recovery. Instead, Martinez's Game Commission has chosen play politics with the wolves' future.
Wolves generate economic benefits – a University of Montana study found that visitors who come to see wolves in Yellowstone contribute roughly $35.5 million annually to the regional economy. New Mexico stands to benefit from wolf-related tourism, but only if the Mexican wolf reintroduction is allowed to succeed.
The state is putting up roadblocks that could doom our lobos, but the feds are also dragging their feet on recovery.
Cross-fostering is a long shot that requires all sorts of factors to align perfectly.  Cross-fostering alone cannot come close to saving the wolves — more adult wolves must be released from captivity.
Make sure you:
Thank the paper for this excellent article and make sure to reference the article in your LTE.
Submit your letter as soon as possible. The chance of your letter being published declines after a day or two since the article was published.
Do not repeat any negative messages, such as "so and so said that wolves kill too many cows, but"¦"  Remember that those reading your letter will not be looking at the article it responds to, so this is an opportunity to get out positive messages about wolf recovery rather than to argue with the original article.
Keep your letter brief, no more than 200 words. Letters will be edited for space and clarity.
Include something about who you are and why you care: E.g. "I am a mother, outdoors person, teacher, business owner, scientific, religious, etc." Don't be afraid to be personal and creative.
Provide your name, address, phone number and address.  The paper won't publish these, but they want to know you are who you say you are.
Thank you for speaking out for Lobos!
Do you want to do more for Mexican wolves?
Join Little Red Riding Hood
at the Commission Meeting in Albuquerque.
Rally and New Mexico Game Commission meeting in Albuquerque on Tuesday, September 29th.


Albuquerque, New Mexico
Embassy Suites 
1000 Woodward Place NE 

The rally will begin at 8:00 a.m.

The meeting will be held from 9:00 a.m. — 5:00 p.m.
Members of the public will not be allowed to speak during the Mexican wolf discussion (agenda item 7), but we will be present to visibly show our support for wolves during the meeting.
______________________________________________________________________________
Click
here
to join our email list for Mexican gray wolf updates and action alerts.
Donate to support our work for Mexican gray wolf recovery
here
.
V
isit us on Facebook
here.