Great Pro-Wolf Letters to the Editor — Thank you!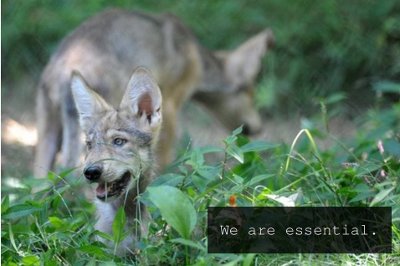 Thank you to all who have submitted letters!
Writing a letter to the editor of your local newspaper is an excellent way to raise awareness about critically endangered Mexican gray wolves and the steps needed to help them thrive. Surveys of newspaper readers show that the letters page is among the most closely read parts of the paper. It's also the page policy-makers look to as a barometer of public opinion.
Below are some recent letters that have been published, along with links and talking points for you to submit your own Letter to the Editor.
Arizona Daily Sun, August 17, 2014
I was glad to see coverage in the Daily Sun of the United States Fish and Wildlife Service's proposed rule changes for the Mexican gray wolf reintroduction program. I was also heartened to hear that the USFWS recognizes the need for an expansion of the Mexican wolf range north of I-40 and the admittance that the proposed expansion is inadequate to their recovery.
I ask, then, why the Service is delaying the expansion of their range north of I-40 into suitable habitat, where there are few people and great numbers of elk and deer, and given the grave state of the population now and the precariousness of its survival? I am glad to hear that the Service is planning to get immediately back to work on updating the recovery plan. I am concerned, however, that the Service appears to be delaying the expansion of wolf range to the north till such a time that the plan is completed.
We have been waiting for this plan for decades and we can't wait any longer. The future and survival of the Mexican wolf is at stake. The USFWS needs to step up and do its job of protecting and conserving our native wildlife and landscapes. For the Mexican wolf, the time to do so is now, not at some future, unspecified time.
The Arizona Republic, August 17, 2014
Thank you, Larry Voyles and the Arizona Game and Fish Department ("Game and Fish wants to restore wolf in balance with other wildlife," Opinions, Friday).
If it weren't for your hard work in protecting the elk from wolves, the elk would have been wiped out 100,000 years ago.
Daily Camera, August 10, 2014
One thing I appreciate about Colorado is how people actually care about and desire to protect the wilderness. As a volunteer at Mission: Wolf and a wolf advocate, I wear many wolf T-shirts. Usually, at least one person starts a conversation with me. Most people either favor wolves or want to know more. As such, I think the community would like to know about some of the issues facing wolves. Presently, the Mexican gray wolf (Canus lupus baileyi) is in a more precarious position than usual, and I'd like to speak on behalf of this endangered sub species of gray wolf.
It has been 38 years since the lobo, as Mexican wolves are also called, was placed under protection of the Endangered Species Act. However, the initial recovery goal of a wild lobo population numbering at least 100 has never been met. Today only 83 Mexican gray wolves live in the wild. Genetic diversity and poaching are critical problems. Despite this the population is listed as "non-essential" which means they do not get as many federal protections as an "essential" population.
U.S. Fish and Wildlife Services (USFWS) is the agency responsible for recovery efforts, and a new recovery plan for Mexican gray wolves is being proposed. While this proposal expands the roaming range for the wolf population, it still falls short of what expert scientists recommend. Additionally, the proposal includes additional the criteria under which lobos can be killed to protect human interests. It also fails to change their status to "essential."
USFWS is holding two public hearings in the southwest where they will be accepting comments from anyone who has an opinion on the proposal. The dates are 6-9 p.m.: Aug. 11, in Pinetop, Ariz. and August 13, in Truth or Consequences, N.M.
Visit www.mexicanwolves.org for more information.
Albuquerque Journal, August 5, 2014
THANK YOU for news of the Mexican wolf family released into the Gila, and bravo to Fish and Wildlife biologists who work so hard on the ground for these animals! However, a hearing is scheduled on Aug. 13 in Truth or Consequences — Civic Center, 6 p.m. — asking for comments on a proposed rule change that relaxes standards for wolf removal on private and public lands.
This wolf population is classified as "non-essential." The knowledge and instincts of four wild generations is certainly essential and this designation needs to be corrected. Any removal of these wolves is contrary to the recovery of this genetically unique and highly endangered species!
This hearing is a chance for us all to say what we value and what we want our state to look like. I also call on Sens. (Martin) Heinrich and (Tom) Udall to stand for a rule that promotes recovery, not extinction.
~~~~~~~~~~~~~~~~~~~~~~~~~~~~~~~
Albuquerque Journal, August 5, 2014
FOR THOSE OF us who care about wilderness, the release of six Mexican gray wolves into the Gila Wilderness is vital news. And I'm one of those who care. As an outdoor writer, I spend a great deal of time in wild country. I long for that wild country to be whole, to have all the components with which it evolved. I want to walk where there are wolves.
Our wilderness areas attempt to reflect the natural state of the lands where they have been designated. They matter for what they preserve. And they matter for what they are capable of restoring.
Wolves, a natural, native part of New Mexico's wild lands — and the wild lands of much of the rest of America — stand to restore the balance inherent in wild land when all its components are there. Balance is always healthy — for the land itself, for those of us who enter it and for those who may not enter, but are recipients of the good emanating from a healthy environment.
The two adults and four pups released last week add to the 83 currently in the wild. This is a small number to grow a sustainable population of the most endangered mammal in the U.S.
Their release is hopeful, but it isn't enough. More Mexican gray wolves in captive breeding facilities around the country are ready to be released. It is up to the U.S. Fish & Wildlife Service to move forward with allowing new wolves to be released throughout the Blue Range Recovery Area. It seems to be up to us to badger the service.
Anyone who cares about wolves has an opportunity to speak out for their recovery on Aug. 13 when the U.S. Fish & Wildlife Service holds a hearing in Truth or Consequences about their future. Even without speaking, your presence speaks for wolves.
~~~~~~~~~~~~~~~~~~~~~~~~~~~~~~~~~
NOW IT'S YOUR TURN TO SPEAK FOR WOLVES!
Endangered Mexican Wolves Need Your Help!
With fewer than 90 Mexican gray wolves in the wild, US Fish and Wildlife Service is proposing to make changes that could push them closer to extinction or finally help them thrive. The decision will be made in the next few months and they need to hear from you!
Submit a letter to the editor responding to this article and influence decision-makers and thousands of your fellow citizens. Tips and talking points are below, but please write in your own words, from your own experience. Don't try to include all the talking points in your letter.

Talking points

Start by thanking the paper for covering Mexican wolf recovery in their publication.
US Fish and Wildlife Service (USFWS) should move forward with allowing new wolves to be released throughout the larger area proposed.

The Mexican gray wolf is the most endangered mammal in the U.S. with only about 83 in the wild.  Additional wolves must be released into the wild now to increase the genetic health of the species. Numerous wolves are in captive breeding facilities around the country, prepared for, and awaiting, release.
USFWS should not allow more killing of critically endangered wolves.

The draft proposal will push Mexican gray wolves towards extinction by allowing many more of them to be killed under all kinds of justifications. With fewer than 90 in the wild, every wolf is important. These native lobos need more protections, not less.
Wolves once lived throughout Arizona and New Mexico and played a critical role in keeping the balance of nature in place.

We need to restore this important animal that has been missing for too long. People who care about wolves have an important opportunity to speak out for their recovery through September 23, 2014.  Comments can be submitted electronically here:  

http://www.regulations.gov/#!documentDetail;D=FWS-R2-ES-2013-0056-6056

.  More information can be found at mexicanwolves.org.
Wolves need freedom from boundaries

. Given room to roam, the wolves will establish themselves in suitable areas with adequate game. USFWS must change the rules that do not allow wolves to establish new packs and populations in additional areas that are essential to their recovery.
Additional populations of Mexican wolves are necessary to their recovery and genetic health

, as is the ability for wolves to move between populations. Capturing and moving wolves because they roam beyond an artificial boundary is always a risky business that can result in death or trauma to the wolf.
The USFWS should designate Mexican gray wolves as essential.

By labeling all of the wild wolves as "nonessential" the USFWS ignores science and the reality of 16 years of experience with reintroducing wolves. The 83 wolves in the wild have up to 5 generations of experience in establishing packs and raising pups and are over 22% of all of the Mexican wolves in the world.The fifth generation wild lobos are not expendable and are essential to recovering this unique subspecies of wolf. 

The USFWS needs to quit stalling and complete a comprehensive recovery plan

. USFWS admits that their 1982 recovery plan is not scientifically sound and does not meet current legal requirements — yet in its proposed rule USFWS continues to ignore the best available science and the recommendations of its own science recovery planning subgroup.

Make sure you:

Thank the paper for publishing the article.
Do not repeat any negative messages from the article.  Remember that those reading your letter will not be looking at the article it responds to, so this is an opportunity to get out positive messages about wolf recovery rather than to argue with the original article.
Keep your letter brief, between 150-300 words.
Include something about who you are and why you care: E.g. "I am a mother, outdoors person, teacher, business owner, scientific, religious, etc."
Provide your name, address, phone number and address.  The paper won't publish these, but they want to know you are who you say you are.
See the links above for where to submit your letter.
TO LEARN MORE ABOUT THE USFWS PROPOSAL,
CLICK HERE.
______________________________________________________________________________________________________________________________________
Click here to join our email list for Mexican gray wolf updates and action alerts. 
Visit us on Facebook here. 
Donate to support our work for Mexican gray wolf recovery here.