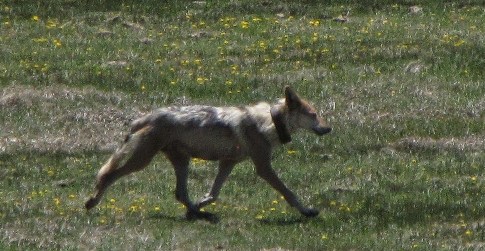 Mexican gray wolves are an essential part of the balance of Nature. Only 83 Mexican wolves lived in the wilds of the Southwest at last official count — far too few to fulfill their important natural role.
For years, the Fish and Wildlife Service routinely killed or trapped wolves that were implicated in three or more livestock depredations, without regard for genetics or other important factors, such as dependent pups.  Due to the public pressure brought to bear by wolf supporters, and litigation filed by conservation groups, the standard operating procedure under which many wolves were killed for depredations was abolished.
This is a comprehensive guide that outlines a wide range of nonlethal methods that are working to reduce livestock losses to wolves.
Effective deterrents used to reduce conflict with wolves include:
* properly disposing of sick, dead and dying animals;
* livestock guarding dogs; fencing, fladry and night pens;
* range riders and herders;
* using scare devices;
* alternative grazing sites and more.
The results of these efforts have been encouraging and successful, with all involved seeing tangible benefits.
See a
video from Defenders
that shows nonlethal techniques being used to successfully prevent wolf-livestock conflicts in Idaho.  These techniques work in Arizona and New Mexico too.
Photo courtsey of Jean Ossorio.