Blog Post: Hopa travels 1500 miles to Wolf Haven – by car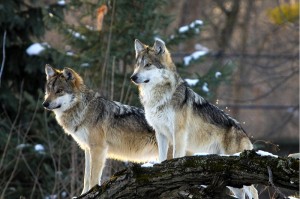 One of the breeding and transfer recommendations made this year at the
Mexican wolf Species Survival Plan (SSP)
was the transfer of F1222 from the USFWS captive management facility in New Mexico to Wolf Haven in Tenino, Washington. Mexican wolves are the most endangered wolves in the country, with about 83 in the wild.
F1222, (or Hopa, as she is known in-house), is a three year old female born at the Endangered Wolf Center in Eureka, Missouri and originally intended to live in the wilds of Mexico. For a variety of reasons, that didn't work out, so instead, Hopa came here & is paired with Mexican wolf M1067, known as "Brother".
Their introduction was lukewarm at best and for a few weeks, Brother either ran Hopa off whenever she got close or simply ignored his new companion.
However, the two seem to be warming up to one another and as courtship season approaches, you can bet he will be doing everything he can to win her over! Recently the pair got a new den box. You can watch their different reactions to it in this VIDEO.
_______________________________________________________
Click here to join our email list for Mexican gray wolf updates and action alerts. 
Visit us on Facebook here. 
Donate to support our work for Mexican gray wolf recovery here.