You Can Be A Champion for Conservation!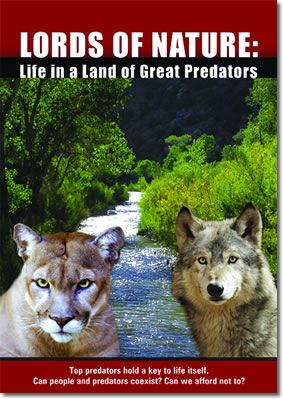 Top predators, like Mexican gray wolves, are beautiful animals that play a vital role in keeping the balance of nature. They are also one of North America's most imperiled creatures.
LORDS OF NATURE is the story of how science is now discovering top predators as revitalizing forces of nature, and of a society now learning tolerance for these animals.
Help protect wolves and other top predators by hosting a home screening of Lords of Nature: Life in a Land of Great Predators.
In 3 simple steps, you can organize your own Lords of Nature Evening of Action:
1.  Download the Home Screening Kit, and work with the Green Fire Productions staff to plan an event and action.
2.  Invite family, friends, co-workers, and neighbors to your home for a screening of the film.
3.  After the film, lead your guests to take action to protect the Mexican wolf.
About The Film: Following in the footsteps of wolves and cougars, and the scientists working to understand their place in the rapidly changing world of nature, award-winning filmmakers Karen and Ralf Meyer of Green Fire Productions have captured the predators' ongoing drama in their new documentary, LORDS OF NATURE: Life in a Land of Great Predators. Narrated by Peter Coyote, this 60 minute documentary goes behind the scenes with leading scientists to explore the role top predators play in restoring and maintaining ecosystems and biodiversity.  (www.lordsofnature.org)
"Never doubt that a small group of thoughtful, commited citizens can change the world.  Indeed, it is the only thing that ever has." -Margaret Mead
Contact Green Fire Productions at office@greenfireproductions.org to get started today!