Wildlife Experts Work Together to Save Gray Wolves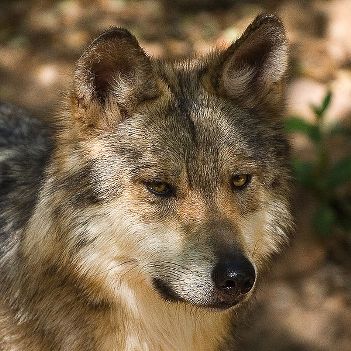 TENINO — A Tenino wolf sanctuary is helping to bridge the gap between two different cultures with a common goal — ensure survival of Mexican gray wolves.
At a course that remains one of only two in the nation to offer hands-on experience with wolves Thursday, one Wolf Haven biologist brought together scientists from the United States and Mexico.
The two countries have long been working on a Species Survival Plan for the once nearly extinct Mexican grays in the United States and Mexico.
At the 10th annual course, which attracted students from around the world, Pamela Maciel, a Wolf Haven biologist from Mexico, provided Spanish translation for three scientists working on the Species Survival Plan south of the border.
Maciel first came to Wolf Haven's Wildlife Handling and Chemical Immobilization class as an intern student after having worked with six Mexican gray wolves from the Tenino sanctuary in Mexico.
"It was an experience that changed my life completely," Maciel said.
The training in compassionate care, she said, changed her view on how people can handle animals in a more humane way. After twice returning to Wolf Haven to work as a volunteer, Maciel now provides bilingual services as a staff liaison between the two countries working to repopulate the still dangerously low number of Mexican grays.
"It's a bi-national effort," Maciel said. "They wanted to have a bridge to learn from each other."
In addition to the Mexican veterinarians and biologists, this year's course participants came from Ireland, British Columbia, Alberta, the Washington Department of Fish and Wildlife, the Yakama Nation, the Kalispell Tribe of Indians and several additional U.S. states.
Instructor Mark Johnson, director of Global Wildlife Resources, Inc. and a former veterinarian at Yellowstone National Park, now travels the world presenting courses on compassionate animal handling.
During last week's training, students learned humane methods for animal handling, chemical immobilization, monitoring vital signs, administering vaccinations, drawing blood and radio collar techniques.
Students donned latex gloves and stethoscopes to examine four of the sanctuary's resident Mexican gray wolves and a gray wolf rescued from Lacey four weeks ago, under the guidance of Johnson along with experienced veterinarians and animal care staff.
"The main thing to take away is how to handle the animals slowly and gently," said Jerry Brown, a Yelm veterinarian who has worked with Wolf Haven for more than three decades.
Students, Brown said, have the opportunity to learn the different stages of anesthesia and to take samples quickly while the animals remain sedated to prevent injuries to themselves or the animals.
"It's not a rodeo. It's all in the comfort zone," Brown said. "It's always freaky when you're in the field and those things happen."
Amber Wimsatt, a student from Oregon State University, said the course offered her a first chance to handle wolves.
"It's just a really neat experience," she said. "You don't get the opportunity to do this kind of hands-on experience very often."
Students whispered so they would not disturb the animals as they performed checkups on the anesthetized wolves, which must receive regular health exams and vaccines as part of their care under Species Survival Plan regulations.
Under the plan, at least two pairs of Mexican gray wolves at the sanctuary this year received recommendation for breeding in February. The recommendation could include an additional two pairs from Wolf Haven, depending on lab results.
"It doesn't mean they're going to have pups," cautioned Wolf Haven Communications Director Kim Young.
Still, she said, pups could arrive this spring at the sanctuary, which released the first Mexican wolves into the wild after a three-decade absence.
~~~~~~~~~~~~~~~~~~~~~~~~~~~~~~~~~~~~~~~~~~~~~~~~~~~~~~~
This story was also covered by

Oregon Wild

.
~~~~~~~~~~~~~~~~~~~~~~~~~~~~~~~~~~~~~~~~~~~~~~~~~~~~~~~~~~~~~~~~~~~~~
Click here to join our email list for updates and action alerts.
Visit us on Facebook here.