WildEarth Guardians Alert: Help Increase Endangered Species Act Protections for Lobos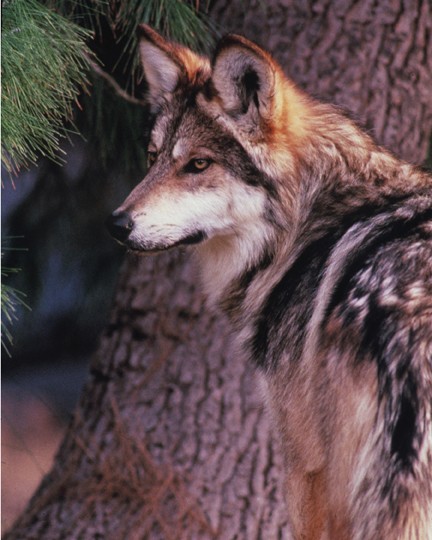 In July, Governor Bill Richardson of New Mexico stood up for wolves by issuing a temporary ban on traps and snares in the Mexican wolf recovery area. Governor Richardson said he wanted wolves to "survive and flourish."
The feds need to provide leadership for wolves alongside Governor Richardson.
For Mexican wolves to flourish, after a long history of intolerance and persecution, they need a strong federal safety net, coupled with protections at the state level. You can help increase legal safeguards for Mexican wolves by asking the U.S. Fish and Wildlife Service to increase Endangered Species Act protections for these animals by listing them under the Act separately from other wolves.
And the Mexican wolf urgently needs upgraded protections. Just this year, at least three endangered lobos were shot by a serial killer – or killers. As of December 2009 there were only 42 wolves surviving in the wild. At the end of 2010, that count may be even lower.
Sadly, the Mexican wolf's scant numbers have emboldened its critics, who went to court in August, arguing for even less protection for this endangered carnivore.
Urge the U.S. Fish and Wildlife Service to maximize legal protections for the lobo in the face of this intolerance.
WildEarth Guardians wants a serious, strong line of defense for lobos by the federal government. We need a flourishing, not dwindling, population of Mexican wolves in the wild. Please urge the federal government to step up protection for this key southwestern carnivore.
From moving elk out of sensitive streamside areas to keeping smaller carnivores in check, wolves play vital roles in their ecosystems. These types of ripple effects could occur in Mexican wolf territory if lobo numbers increase to ecologically effective levels.
Speak up for wolves by writing the U.S. Fish and Wildlife Service, urging a prompt proposal to list the Mexican wolf under the Endangered Species Act, separately from other types of gray wolves.
Links
1 — Arizona Republic article on lobo listing petitions 
2 — Santa Fe New Mexican editorial on need for federal follow-up 
3 – Join a collective of groups and individuals working to protect the lobo
Wolf Alert Letter
[comments need to be received by October 4]
Public Comments Processing, Attn: FWS-R2-ES-2010-0045
Division of Policy and Directives Management
U.S. Fish and Wildlife Service
4401 N. Fairfax Drive, Suite 222
Arlington, VA 22203
Dear U.S. Fish and Wildlife Service,
With just 42 wolves left in the Blue Range Wolf Recovery Area (BRWRA) at the end of 2009, the Mexican wolf or "lobo" is facing a fight for its life. Please provide the lobo with a lifeline by proposing this subspecies (Canis lupus baileyi) for endangered listing under the Endangered Species Act (ESA). The lobo is the rarest and most distinct type of wolf in the U.S. and deserves maximum safeguards under the ESA.
Listing the Mexican wolf as a subspecies separate from other types of gray wolves would correct a historic error. On April 28, 1976, the Mexican wolf was originally listed as a distinct subspecies under the ESA. But on March 9, 1978, the U.S. Fish and Wildlife Service (Service) subsumed this subspecies under a listing of the gray wolf (Canis lupus) in North America south of Canada.
In the Service's August 4, 2010 finding on two petitions requesting listing of the Mexican wolf under the ESA, your agency found that human-caused mortality was threatening this subspecies. We agree: this is a grave threat to the future of the lobo. There are additional threats we urge the Service to consider, including inadequate regulatory protections, given that your agency itself has removed 151 wolves from the wild, a greater number than have been illegally killed. In addition, the Service should consider livestock grazing on public lands in the BRWRA as a threat to the wolf, given that real and perceived conflicts with livestock are the primary factor behind wolf removals and illegal killing. On public lands, over the past several years, the U.S. Forest Service approved continued livestock grazing on more than 500,000 acres in the Gila National Forest portion of the BRWRA alone.
I believe that a proposal and listing of the Mexican wolf as a separate subspecies would breathe new life into this carnivore's faltering recovery program. Its recovery plan was issued in 1982 and badly needs updating. The Service needs to increase protections for Mexican wolves that have already been reintroduced and to ensure that the biological needs of this animal — not politics and prejudice — govern new releases into the wild. The public lands habitat of this wolf needs upgraded safeguards, rather than continued rubber-stamping of livestock grazing on federal land.
Thank you for your attention.
Sincerely,
Comments must be posted on the federal rulemaking portal by 11:59 p.m. EDT. Post your comments at: http://www.regulations.gov/search/Regs/home.html#submitComment?R=0900006480b28da4
Thank you for taking action today!