Why 'Success' Of 1 Female Mexican Gray Wolf Creates Problems for the Entire Species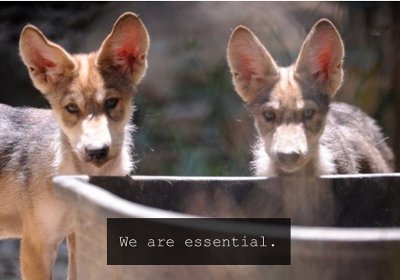 The Mexican gray wolf recovery program has been controversial since its inception. And it's not just political opposition causing issues.
A lack of genetic diversity and inbreeding also pose a major threat to the endangered species' recovery. But a complex captive breeding system and careful genetic planning is showing some promising results.
"The entire global population of Mexican gray wolves actually started with only seven wolves," said Maggie Dwire, a biologist with the U.S. Fish and Wildlife Service. "We completely eradicated the Mexican wolf from the wild in the United States. In the late 1970s we captured what may have been the last remaining wild wolves in Mexico."
She said when it comes to restoring a healthy population, working with just seven animals created a genetic bottleneck. But that wasn't the species only problem.
"We've had one particular wolf achieve such success out there that nearly all of the wild population is somehow related to her," Dwire said.
In other words, one female wolf super mom is related to almost all of the roughly 110 animals living in the wild right now. And that's a problem.
In response, Dwire said the agency launched an experimental and labor-intensive method of genetic rehabilitation.  It starts out with an annual two-day meeting where wildlife managers analyze the results of computer program mapping out the entire population's pedigree. They're looking to find a wolf in captivity that will thrive and, more importantly, breed in the wild.
"We'll look at the current genetic makeup of the wild population and then look for a wolf in captivity that would, if released to the wild, increase gene diversity, reduce inbreeding, reduce the relatedness of the wild population," said Dwire.
Relatedness and inbreeding can lead to low birthweight and increased pup mortality rates — which is why captive wolves who are the least related to that one wolf super mom become candidates to reproduce and get transferred to what's known as a pre-release facility in Sevietta, N.M. There they get conditioned to living in a wild environment and evaluated for potential release.
"One to two effective migrants per generation would help us keep this population on the right trajectory genetically," said Dwire. "So far we've had about a 30 percent success rate, and our most successful type of release has been an adult pair of wolves with offspring."
The U.S. Fish and Wildlife Service and Arizona Game and Fish Department have released about 95 animals to the wild since the program began in 1998. And population numbers are trending up, increasing by almost 30 animals since last year.
But Dwire said while the genetic issues are showing signs of improvement, the species is far from out of the woods in terms of survival, as coexistence with local livestock still remains a hotly debated issue.
~~~~~~~~~~~~~~~~~~~~~~~~~~~~~~~~
Due to USFWS's failure to release new wolves from the captive breeding population, the genetic diversity of the wild population remains low, in spite of the increase in numbers.
Letter Writing Tips & Talking Points
At last official count, only 109 Mexican gray wolves were found in the wild, making them one of the most endangered wolves in the world.
The wild population of Mexican wolves is at tremendous risk due to its small size and genetics. Many more wolves should be released this year from the hundreds in captive breeding programs.
For over 3 decades, captive breeding programs in the U.S. and Mexico have worked to maximize genetic diversity so that captive wolves could be released to increase the wild population's genetic health. But USFWS has released very few of these wolves.
Wolves are a benefit to the West and are essential to restoring the balance of nature.
Scientists believe that Mexican wolves will improve the overall health of the Southwest and its rivers and streams — just as the return of gray wolves to Yellowstone has helped restore balance to its lands and waters.
Mexican gray wolves are unique native animals. They are the rarest, most genetically distinct subspecies of gray wolf in North America and the most endangered wolf in the world.
Wolves generate economic benefits – a University of Montana study found that visitors who come to see wolves in Yellowstone contribute roughly $35.5 million annually to the regional economy.
The livestock industry has a responsibility to share public lands with wolves and other wildlife. Wolves are responsible for less than 1% of livestock losses and there are many tried and true methods to avoid conflicts between livestock and wolves.
Contact infomation and a sample letter can be found HERE.