Threat to Lobos Only Grows Because of Agency's Passivity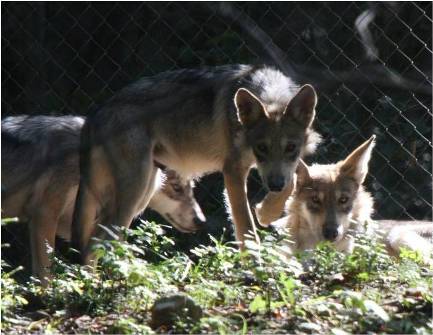 By Mark Salvo and Wendy Keefover
WildEarth Guardians
Mexican wolves just can't catch a break.
Not from ranchers. Not from politicos. And not from the U.S. Fish and Wildlife Service, ironically, the agency charged with conserving the species.
In just the last week, the service has not only permanently removed a mother wolf of five pups from the wild for allegedly preying on a few cattle, but also declined to provide a more protective legal designation for the 59 wild Mexican wolves that struggle to persist in the Southwest.
Mexican wolves, or "lobos," are the smallest, rarest and most distinct subspecies of western wolves, but the service, for no good reason, lists them as just another population of gray wolves under the Endangered Species Act. Separately listing Mexican wolves would highlight how rare and how difficult survival is for the lobos.
Last Friday the service had an opportunity to create a new paradigm for wolf recovery in the Southwest, one in which the remaining wolves that roam the Gila's wildlands are no longer treated as second-class citizens. But the agency declined to do so.
You see, what's hindering the recovery program the most is the agency's "experimental nonessential" designation under which lobos were restored to the Gila. It means that, when push comes to shove, ranchers' cows are more important than the magnificent, rare and critically endangered lobo — even though very few cattle are actually killed by wolves.
A new, separate listing under the Endangered Species Act would have subsequently required the service to revisit this troubling designation that the only wild population of Mexican wolves is somehow "experimental" and "nonessential" to the lobos' survival. It's a farce, and it's no wonder the recovery program is failing.
Under the current designation, dozens of lobos have been killed, captured or simply disappeared from the recovery area. The Fish and Wildlife Service has declined to release more captive wolves into New Mexico, it has failed to vigorously protect wolves from poachers, and it has failed to expand the recovery area to provide existing wolf packs with more room to roam.
Other agencies appear to take their cue from the service's passive management of the lobo. The Forest Service has refused to support conservation organizations and ranchers to close federal grazing allotments in wolf habitat. Working with willing ranchers to retire public lands grazing allotments in the recovery area is the most important action that we can take to recover Mexican wolves.
Government management has deteriorated to the point that this year WildEarth Guardians had to sue the State of New Mexico for — unbelievably — permitting trapping in Mexican wolf range.
The Endangered Species Act specifically allows for protection for separate subspecies of animals, and a separate listing would benefit the Mexican wolf recovery program. The re-listing process would require the agency to review every aspect of the current recovery effort and to chart a new course for Mexican wolf conservation in the Southwest.
More important, re-listing the lobo will cause the service to revisit the ridiculous "experimental, nonessential" designation for the wild population. Elevating the lobo's status to "essential" would strengthen recovery efforts by prioritizing wolf conservation over other, potentially conflicting land uses and outlandish practices like indiscriminate trapping in the wolf recovery area.
The Endangered Species Act is an emergency room for imperiled species. The Mexican wolf has been saved by the law, but has remained in intensive care for more than three decades. Relisting the lobo was an important opportunity to make the lobo a first-class citizen under the Endangered Species Act, moving the lobo out of intensive care and onto a path to recovery, but the service failed to seize it.
Instead the agency incarcerated the Fox Mountain mother wolf for life for the crime of feeding her family.
Mark Salvo is wildlife program director for WildEarth Guardians. Wendy Keefover directs the carnivore protection program for the organization.
The letters to the editor page is one of the most widely read, influential parts of the newspaper. One letter from you can reach thousands of people and will also likely be read by the U.S. Fish and Wildlife Service.  Tips for writing your letter are below, but please write in your own words, from your own experience.
Letter Writing Tips & Talking Points
Below are a few suggestions for ensuring your message gets through clearly-your letter will be most effective if you focus on a few key points, so don't try to use all of these. If you need additional help or want someone to review your letter before you send it, email it to info@mexicanwolves.org.
Start by thanking paper for publishing this article

. This makes your letter immediately relevant and increases its chances of being published.
Protest any further disruption of this family of wolves

. The alpha female was just captured and placed in permanent captivity. Wolves are social animals who rely on family members in hunting and pup rearing.  By removing this wolf, the USFWS is depriving four pups born this summer of their mother, harming this family of wolves, and breaking apart one of only a few breeding pairs in the wild. The Fox Mountain wolves should be left alone.
Point out that there are many proactive measures available to help livestock coexist with wolves and they are working

. No livestock have been lost near the Fox Mountain Pack since July and no livestock were lost prior to July while range riders were present. Removing or killing critically endangered wolves is the wrong way to address livestock issues.
Remind readers that, at last count just 58 wolves, including six breeding pairs, survived in the wild

. This is no time to bring back the policy of scapegoating wolves who occasionally prey on livestock. Instead of removing wolves, more should be released in the wild. Convey how important new releases of wolves into the wild are to increase the population's numbers and genetic health, especially now.
Tell readers why you support wolves and stress that the majority of New Mexico and Arizona voters support the Mexican wolf reintroduction

.  Polling showed 69% support in New Mexico and 77% support in Arizona.
Talk about your personal connection to wolves and why the issue is important to you

. If you're a grandmother wanting your grandchildren to have the opportunity to hear wolves in the wild, or a hunter who recognizes that wolves make game herds healthier, or a businessperson who knows that wolves have brought millions in ecotourism dollars to Yellowstone, say so.
Describe the ecological benefits of wolves to entire ecosystems and all wildlife

.  Wildlife biologists believe that Mexican wolves will improve the overall health of the Southwest and its rivers and streams — just as the return of gray wolves to Yellowstone has helped restore balance to its lands and waters.
Keep your letter brief, between 150-300 words

.
Provide your name, address, occupation, and phone number

; your full address, occupation, and phone number will not be published, but they are required in order to have your letter published.
Thank you for taking action to help save Mexican gray wolves.
CLICK HERE

to join our email list to stay informed and get more involved with efforts to recover Mexican wolves from the brink of extinction.
Photo credit:  Endangered Wolf Center