Tell NM Game Commission: Stop Taking Aim at Cougars, Bears and Endangered Wolves!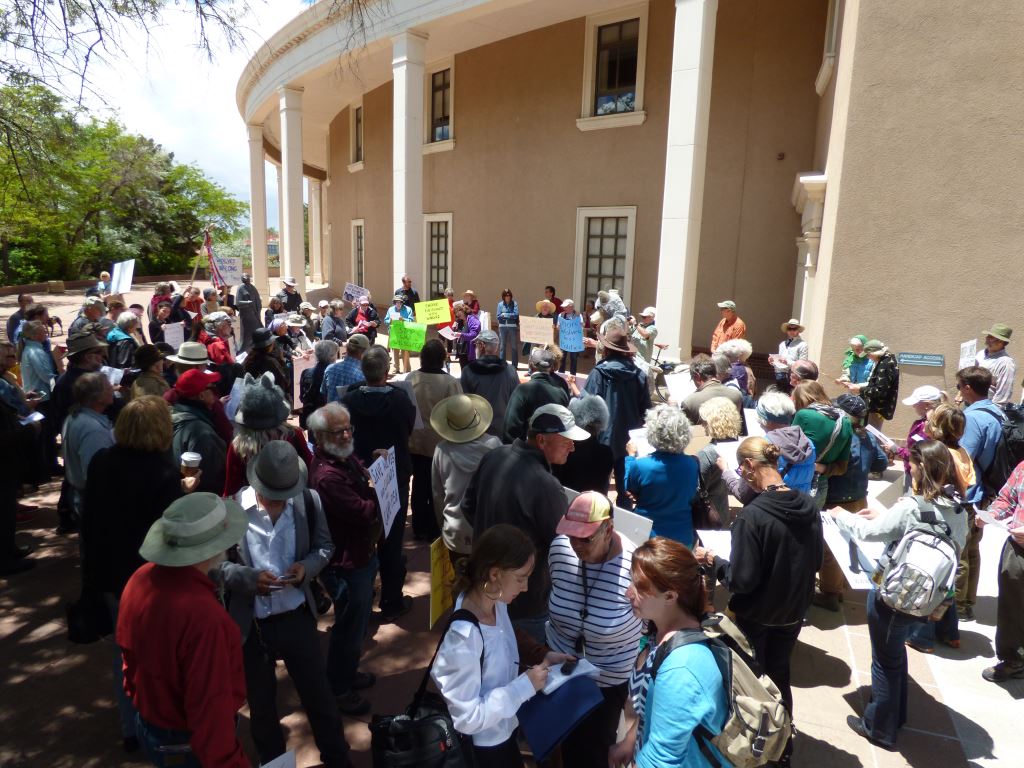 Last month, in a petty political move to make recovery of endangered Mexican gray wolves more difficult, NM Governor Martinez's hand-picked anti-carnivore Game Commission denied, for the first time in 17 years, the permit to allow Ted Turner's Ladder Ranch to continue assisting with Mexican wolf recovery.
We responded by holding a rally with 150 wolf supporters at the NM State Capitol on May 19th.
Now it's time to do it again in Taos.
The NM Game Commission also recently issued a proposal to allow cruel trapping of cougars and expand bear hunting in New Mexico. This vicious proposal and the State Wildlife Action Plan are on the agenda for the Commission meeting on June 13. We need many wildlife supporters to come out and speak for wolves and other wildlife and to attend a rally during the lunch break.
Governor Martinez and her Commission are clearly out of touch with the majority of New Mexicans, and out to get carnivores.
Please come to the commission meeting and rally to show the Governor and the NM Game Commission that New Mexicans won't sit silent while they wage war on the state's essential carnivores!
Saturday, June 13, 2015
Kachina Pow Wow Convention Center
413 Paseo del Pueblo Norte
Taos, NM
Updated Parking Directions and Map
To speak or be present during at the commission meeting discussion of the Cougar and Bear proposal (agenda item 8), arrive by 9 am
To speak for wolves, who are a "species of greatest conservation need" in the state plan (agenda item 9), arrive by 10 am.
We will hold a 30-45 minute rally during the lunch break.
Click here for the full commission meeting agenda.
Please stand with us to demand that the commission grant the Ladder Ranch's Mexican gray wolf permit, return the power over such permits, and rescind its proposals to trap cougars and hunt more bears.
Tips and Talklng points to help you prepare for the meeting are at this link.
Please RSVP at this link if you plan to attend so that we can communicate with you if needed.
If you need a ride, or can offer one, fill out the carpool form here.
Please also contact the Governor's office and request respectfully that she put an end to her Commission's anti-carnivore state wildlife policies, grant the Mexican wolf permit to Ladder Ranch, and rescind the rule giving the Commission this authority.

Calls are most effective: 505-476-2200
You can also sign a petition to the Governor here.

What to bring:

Layered clothing (wear your wolf shirt!)
Friends and family members

Suggested sign slogans:

The Commission Is Wrong-Mexican Wolves Belong!
Ladder Ranch is a good faith partner, why aren't you?
New Mexico Needs Wolves (or Lobos, or Carnivores)
New Mexico Wants Wolves (or Lobos, or Carnivores)
Commissioners-End your war on wildlife!
Stop persecuting endangered wolves
Stop persecuting carnivores
New Mexicans Want Wildlife Protected, Not Persecuted
Wolves (and/or Bears, and/or Cougars, or Carnivores) Belong!

Thank you for everything you do for the Southwest's wolves and other wildlife!
For more information, contact us at info@mexicanwolves.org