Take Action: Threats to Mexican Wolves Include AZ Game and Fish Night Hunting Proposal and Wolf Reintroduction Program Discussion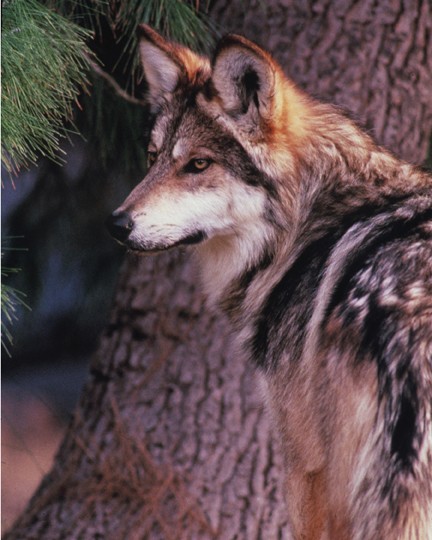 The December 2 AZ Game and Fish Commission meeting agenda includes two agenda items of great concern to lobo supporters.
The first agenda item is a 10:30 a.m. time certain presentation on the Department's involvement in Mexican wolf reintroduction in Arizona and New Mexico and related Mexican wolf recovery and conservation Issues. The Commission may vote to reaffirm existing policy guidance and/or to provide new or additional policy guidance to the Department on any or all aspects of Mexican wolf conservation, including reintroduction and range-wide recovery.  Last year during this topic, the Commission voted to publicly support legislation stripping Mexican wolves of their Endangered Species Act Protections.
This agenda item may also include a discussion of proposed releases of new wolves into Arizona. More releases of captive wolves into the wild are desperately needed to increase the numbers and genetic health of the wild population, currently numbering only 50-60 wolves.
It is critical that wolf supporters speak out on this agenda item to remind the Commission of its obligations to all wildlife, especially endangered species like Mexican wolves, and the critical need for more releases to pull the wild wolf population back from the brink of extinction.
The second item posing threats to Mexican wolves is a proposed rule change to allow the Game and Fish Commission to include night hunting of coyotes and mountain lions in its hunt orders. This poses public safety concerns, will make it more difficult for law enforcement to identify poachers, and is likely to result in the shooting of more non-target species, including endangered Mexican gray wolves as well as domestic animals. The Commission needs to hear strong public opposition to this rule change. This item does not have a scheduled time, but is #15 on the agenda.
More About the Rule Change:
Game and Fish is increasingly targeting predators supposedly in the name of increasing prey species. This is an outdated and unscientific approach to wildlife management. Aldo Leopold recognized the problems with this type of management 80 years ago and understood that predators are key to healthy functioning ecosystems.  According to Game and Fish itself, "The agency did not rely on any study in its evaluation of or justification for the rules."
Night hunting is the latest effort to target predators. Night hunting poses public safety issues. It will be much more difficult for individuals to identify target species in the dark of night.  This can risk the safety of those camping or hiking in these night hunting areas, not to mention risking protected species such as wolves and domestic animals, especially dogs. 
Allowing night hunting also will make it more difficult for law enforcement to do its job and identify and charge wildlife poachers.  Those engaged in illegal activities can always use the claim that they were night hunting as a cover for their activities.  It is difficult enough to catch poachers, without this added hurdle.
Ask Game and Fish to reject this proposal, to recognize the critical role that predators play in functioning healthy ecosystems, to acknowledge the risks to public safety, and to concede that a policy such as this will result in the killing of more non-target species, such as endangered wolves and domestic animals.
HOW TO ATTEND THE MEETING
When:  December 2-3, 2011
Where:  Arizona Game and Fish Department
5000 W. Carefree Highway
Phoenix, Arizona 85086
IF YOU CAN'T GET TO PHOENIX, YOU CAN STILL ATTEND VIA TELECONFERENCE:
Members of the public may attend the meeting in person or view the meeting from any one of the Department's six Regional Offices via video teleconference or webcast viewing at www.azgfd.gov. Members of the public attending in person or viewing via teleconference may submit Speaker Cards (Blue Cards) if they wish to speak to the Commission. The ability to speak to the Commission for those viewing the webcast is not available. 
IF YOU CAN'T ATTEND AT ALL, PLEASE SEND AN EMAIL TODAY:
Prior to the meeting, please email AZ Game and Fish Commission Chair, Robert Woodhouse, and send copies to AZ Game and Fish Department Director Larry Voyles and US Fish and Wildlife Service Regional Director Benjamin Tuggle.
You can use these talking points (please use your own words as this will be much more effective):
*I strongly support more releases of Mexican gray wolves into the wild.
*With only around 55 wolves in the wild, Mexican gray wolves are one of the most endangered mammals on the planet.
*There are many wolves in captive facilities that could increase the wild population, but no new wolf packs have been released into the wild since November, 2008.
*It is illegitimate for AZGFD to hold meetings and public comment periods on critically important wolf releases without notifying the entire public, not just a few people in Apache and Greenlee Counties. Meetings should be held in places more centrally located and publicized on USFWS and AZGFD websites and through the media—with proper advance notice; the same is true for public comment periods.
*Mexican gray wolves are critical to the health of our ecosystems and other wildlife.
*Polling shows that the vast majority of Arizona's residents support the Mexican wolf reintroduction program; the Arizona Game and Fish Department should do so as well.
*Night hunting poses unacceptable risks to wildlife, including endangered Mexican wolves, and to public safety. The Commission should reject this rule change.
PLEASE SEND YOUR MESSAGE AS SOON AS POSSIBLE PRIOR TO THE DECEMBER 2 MEETING!
You can also help by sharing this action alert with others!
Please email us at info@mexicanwolves.org and let us know that you've taken action on this critical issue.
Thank you for all you do to save Mexican gray wolves!