Take Action: Mexican Gray Wolves Face Inbreeding Dangers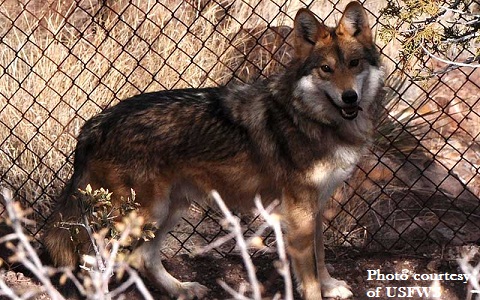 Although the latest annual population survey showed 75 Mexican wolves in the wild – 17 more than a year ago – they are still one of the most endangered mammals in North America.
With so few Mexican wolves left in the wild, and many of those closely related to each other, genetic diversity in the population is being lost and reproductive capacity is diminishing. The annual survey found only three breeding pairs left – down from six pairs in 2011.
There are several reasons these numbers are still so low:
For over four years the Fish and Wildlife Service (FWS) refused to release new wolves into the wild from the captive-breeding pool. They recently successfully released three more wolves into the wild, which is a great start, but only a start-many more new wolves are needed.

In October 2012, the FWS removed the Fox Mountain Pack's alpha female from her mate and five pups into permanent captivity, as a scapegoat for the deaths of four cattle whose owners were already compensated for their losses. Unfortunately, the agency has a history of having killed or permanently removed many wolves and even entire packs over livestock losses.

Four wolves were killed illegally in 2012.  Others disappeared. This is lower than in previous years, but it had an impact on the breeding pairs.
Please contact your

members of Congress

and ask them to urge the US Fish and Wildlife Service to take the following actions now:
Release many more wolves into the wild in 2013 so that the genetic diversity of this population can improve. 

Make changes to allow new releases in New Mexico and throughout the recovery area rather than just in part of Arizona where they are currently allowed.

Continue and increase actions to proactively manage livestock to keep wolves in the wild instead of removing or killing them over livestock losses.
Please call or write today and ask your friends and family to do the same. for contact information for your members of Congress.
Thank you for taking the time to speak out on behalf of these important animals who cannot speak for themselves!
Click here to join our email list for updates and action alerts.
Visit us on Facebook here.