Take Action: Arizona Game and Fish Commission Meeting Friday, December 7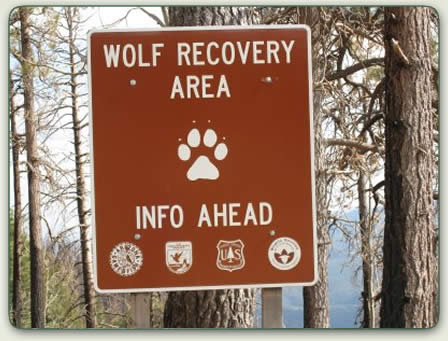 Commission Briefing on the Department's Involvement in Mexican Wolf Reintroduction in Arizona and New Mexico and Related Mexican Wolf Recovery and Conservation Issues. *
Presenter:  Lawrence M. Riley, Assistant Director for Wildlife Management.
The Department will provide a presentation on the Mexican wolf reintroduction program and other reintroduction and recovery efforts.  The Commission may vote to reaffirm existing policy guidance and/or to provide new or additional policy guidance to the Department on any or all aspects of Mexican wolf conservation, including reintroduction and range-wide recovery.
*This item is on the agenda for the afternoon session and is currently scheduled as the fifth item after the lunch break — after 2:00.
The public is invited and encouraged to attend all commission meetings at the Phoenix headquarters or view normally scheduled meetings via a video conference feed at any of the department's regional offices.  Those viewing the normally scheduled meetings at the regional offices will be able to submit "blue slips" to present oral comment on the "call for comment" portions of the agenda, just as if they were attending the meeting in person. In addition, the public can view live webcasts of all commisssion meeting held at the Phoenix headquarters at https://www.azgfd.com/agency/commission/commission-cam/.
In previous December meetings, the Commission has voted to  support stripping away Mexican wolf protections, to limit releases, and to encourage removals of Mexican wolves from the wild.  By attending the meeting, at Phoenix or at any of the Regional Offices, members of the public may comment in support of Mexican gray wolf reintroduction.  You do not need to be an expert to speak at these meetings.  Simple statements of support are needed and effective.  Click here for some talking points.  See the list below for an office near you.
Arizona Game and Fish Office Locations
Arizona Game and Fish Department
2878 E. White Mountain Blvd.
5325 N. Stockton Hill Rd.