State Rejects Wolf Release Proposal, Again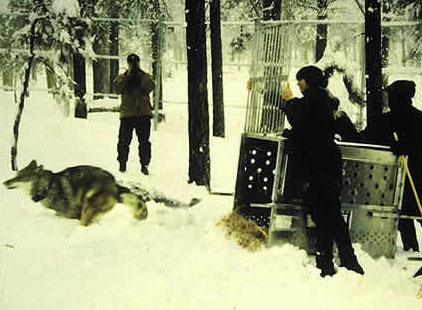 The future of the endangered Mexican gray wolf remains precarious in New Mexico. The state game commissiondenied a federal appeal to release wolves in New Mexico on Tuesday.
The commission voted unanimously after little discussion to uphold a previous decision denying the U.S. Fish and Wildlife Service a permit to release two adult wolves and up to ten pups into the wild in New Mexico.
The commissioners said there wasn't an updated recovery plan for the endangered Mexican gray wolf, whose wild numbers hover just over 100.
But wolf advocates want to see the federal agency proceed without the state's support.
Michael Dax is with Defenders of Wildlife.
"What we need is for the U.S. Fish and Wildlife Service to go ahead and make the releases for the benefit of the wolves," Dax said. "They're a federal agency, it's a federally listed species and they will be releasing these animals into a national forest."
Correction: In an earlier version of this story, we reported that the pups that were to be released were the pups of the pair of adult wolves that were also to be released. The pair of adults that U.S. Fish and Wildlife was hoping to release did not end up having pups this year, according to Sherry Barrett who works on the Mexican gray wolf reintroduction project. Barrett explained that the pups intended for release could have been selected from the 55 breeding facilities. The story has been edited to reflect this fact.
You can listen to the interview with Michael Dax of Defenders of Wildlife 

here

.