Press Release: Letter Urges Release of Endangered Mexican Gray Wolves Into Wild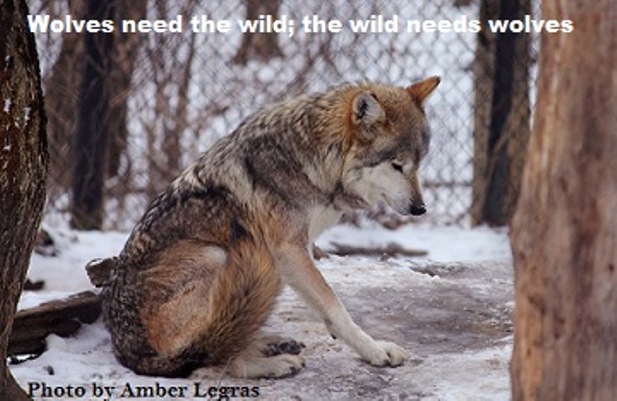 For Immediate Release, July 14, 2017
Media Contacts:
Center for Biological Diversity
michaelr@biologicaldiversity.org
knokes@wildearthguardians.org
Endangered Species Coalition
Letter Urges Release of Endangered Mexican Gray Wolves Into Wild
Faltering Southwestern Wolves' Gene Pool Needs Bolstering
SILVER CITY, N.M.— Thirty-one conservation and wolf-protection organizations in the Southwest and nationwide sent a letter today urging the U.S. Fish and Wildlife Service to expeditiously release endangered Mexican gray wolves to the wild.
Adding new wolves from captivity to the struggling wild population is vital to diversifying the gene pool of the 113 closely related wolves in the wild in Arizona and New Mexico, the letter noted.
"Inbreeding could push the Mexican wolf over the cliff toward extinction if the Fish and Wildlife Service doesn't release captive wolves soon," said Michael Robinson, a conservation advocate at the Center for Biological Diversity. "The trail forward for successful recovery gets steeper and narrower every day that wolf families are kept behind wire mesh, when they could be helping fix the genetic crisis in the wild."
Two specific packs should be freed this month, according to recommendations from a federal and state interagency Mexican wolf team. The team advised that releases occur in June or July after elk calves are born "to facilitate natural hunting behavior." Conservationists want to ensure those wolves are not sequestered indefinitely in pens, as wolf families have been in previous years after release plans were shelved. Today's letter recommends specific animals and release locations in southern New Mexico.
"The continued survival of the lobo has been jeopardized by agency inaction," said Mary Katherine Ray, wildlife chair for the Rio Grande chapter of the Sierra Club. "We stand at the precipice of losing our small Southwest wolf forever, a tragedy for nature and a moral failing of our own human species."
"Wolves belong in the wild," said Kelly Nokes, carnivore advocate for WildEarth Guardians. "Critically imperiled lobos should not be held in a state of perpetual captivity as a result of political pettiness. We call on the Service to put science and the law first, and release these genetically valuable wolves to their native southwestern homelands now."
The conservationists requested that other wolves also be released, including a single female from Mexico, christened "Sonora" by schoolchildren in a naming contest, who was captured after crossing the border into Arizona in March. Freeing her in the United States to breed with wolves here would follow guidelines in the new draft Mexican Wolf Recovery Plan that calls for "translocations" of wolves between U.S. and Mexico populations to enhance both populations' genetics.
"People all over the Southwest, including Utah and Colorado, are rooting for the Mexican gray wolf," said Hailey Hawkins, southern Rockies representative of the Endangered Species Coalition. "Mexican wolves are one of our rarest mammals and treasured not just for their charisma but for their countless contributions to a healthy ecosystem. Folks want to see the Mexican wolf thrive, not just barely hang on like they have been for the last two decades. Federal management should reflect that."
The interagency wolf team also proposed "cross-fostering" as many as 10 captive-born wolf pups into up to five wild wolf dens this spring. However, just four captive-born pups were implanted into only two dens, and four wild-born pups were removed from those dens and placed in captivity, which the field team did not advise (or even contemplate) as it sought an increase in wolf numbers.
"If the U.S. Fish and Wildlife Service releases more wolves, lobos will have a better chance at beating the clock on extinction," said Bryan Bird, Southwest program director for Defenders of Wildlife. "With more wolf releases, their low numbers and limited genetic diversity will also improve. Wolves can restore the balance. When lobos roam safely on the landscape, they can bring our Southwestern ecosystems back to life."
The game departments of Arizona and New Mexico, governed by commissions with appointees from the livestock and hunting-outfitting industries, have opposed releases of wolves. The Fish and Wildlife Service has been reluctant to buck state opposition.
Background
Mexican gray wolves are the smallest and rarest subspecies of gray wolf in North America. Federal trapping and poisoning of wolves on behalf of the livestock industry in the 20th century reduced Mexican wolves to just seven animals that, after passage of the Endangered Species Act in 1973, were caught and successfully bred in captivity.
Some of their descendants were reintroduced into Arizona and New Mexico starting in 1998 and into northern Mexico in 2011. But due to ongoing federal trapping and shooting, and the infrequency of wolf releases from captivity, numbers in the U.S. have lagged below projections. They are so closely related now that, on average, each wolf is as genetically similar to every other wolf in the population as if they were siblings.
Scientists have urged resumption of stalled wolf releases in the United States, less heavy-handed management — meaning less killing — and establishing additional populations in northern New Mexico and Arizona and southern Utah and Colorado.
The Fish and Wildlife Service, in contrast, drafted a recovery plan that gives the states veto power over wolf releases and allows for the removal of federal protections while the species is still biologically imperiled. The draft recovery plan is currently open for public comment until August 29.