Op-Ed: Wolves Threatened: Ending Federal Protection Is A Mistake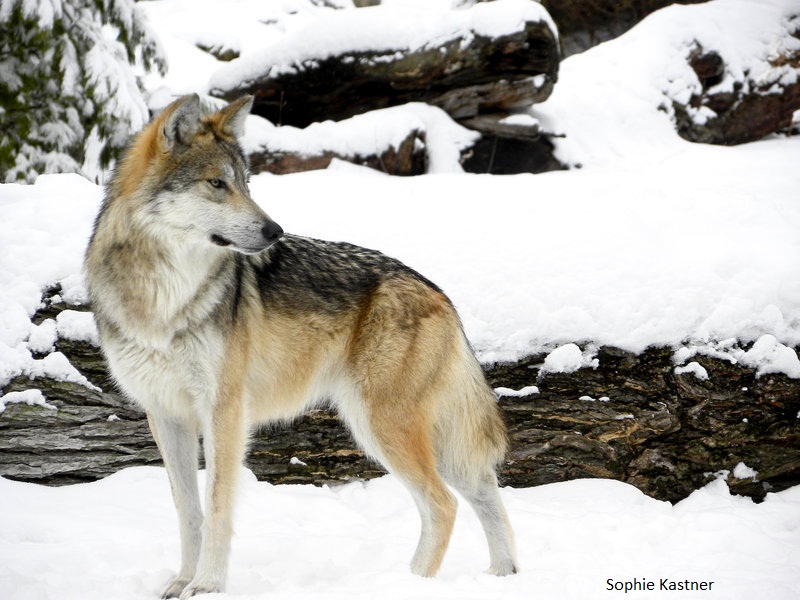 Until recently the restoration of the gray wolf to a portion of its natural habitat in the lower 48 was one of the success stories of the Endangered Species Act of 1973. However, the job is far from complete, and now the U.S. Department of the Interior wants to allow the states to return to many of the same methods of the late 1800s and early 1900s that led to the eradication of the wolf in California and elsewhere.
On June 7, the U.S. Fish and Wildlife Service announced its plan to remove the gray wolf, Canis lupus, from the federal list of endangered wildlife in the remainder of the lower 48 states where it is not already delisted (except for the Mexican wolf in New Mexico and Arizona). The gray wolf will be dropped, not because it has recovered across most of its former range, but because the Department of the Interior appears to be responding to political pressure rather than peer-reviewed science.
Elk hunting groups mistakenly see the wolf as competition for their sport. This represents a grave misunderstanding of the ecology of predator-prey relationships.
Many livestock producers have not begun to explore the nonlethal methods proven to reduce conflict between wolves and livestock. Even though livestock losses to wolves accounted for less than .01 percent of the total livestock in Idaho, Wyoming and Montana in 2012, many sheep and cattle ranchers want to see the wolf eradicated.
If the gray wolf is delisted, then management of wolf populations reverts to each state. Wolves were delisted in 2011 in Idaho and Montana, and 2012 in Wyoming. Management in these states is a cruel euphemism for indiscriminate, aggressive hunting, trapping and snaring of wolves. Since delisting in Idaho, nearly 700 wolves have been killed by recreational hunting. In some areas of Idaho, wolves, including lactating females and pups, can be killed at any time. In 83 percent of Wyoming, wolves can be killed year round, in any number of ways, without a license. And Montana's proposed management plan will allow up to five wolves to be killed per hunter/trapper. This is not scientific stewardship.
The now famous lone wolf OR-7 traveled from Oregon into California in December 2011 but wandered back into Oregon in March of this year. It defies logic to declare the gray wolf population recovered in California. The same is true in other states with excellent wolf habitat and abundant elk and deer such as Utah and Colorado. Like California, these states have no established wolf populations, yet there would be no federal protection for a wolf should it wander in. This action will end recovery in these states before it starts. Why delist the gray wolf in states where it does not yet exist, unless the goal is to keep the population at zero?
The bald eagle was delisted in 2007, but we have not allowed open hunting and trapping. Why should we do that with wolves? The stated goal of the Endangered Species Act is to save species from extinction and to fully recover the species by removing threats to its survival.
The 90-day public comment period for the proposed gray wolf delisting ends Sept. 11. Newly confirmed Secretary of the Interior Sally Jewell needs to hear from the public that wolf recovery has not even begun in California and other states. Wolves need our voices. Please howl your support for federal protection of the gray wolf until recovery is complete, and stop the wolf hunt.
Winston Thomas, a biologist and geneticist who has worked in the Bay Area biotech industry for 22 years, is Pacific Region representative and an advisory board member of Living with Wolves (www.livingwithwolves.org). He wrote this for this newspaper.
Please act today to save wolves!
Public Comments are being accepted until September 11, 2013 on the Fish and Wildlife Service Proposal to Strip Protections for Gray Wolves. You can submit your comments here.
The U.S. Fish and Wildlife Service (USFWS) is proposing to remove Endangered Species Act protections for most gray wolves across the United States.
The only good thing in the proposal to delist gray wolves is a plan to re-list Mexican wolves as an endangered subspecies in their own right.Please comment for the good of all wolves and include the following key points:
1. While giving Mexican wolves their own Endangered Species Act listing is long overdue, delisting gray wolves throughout the U.S. is counter to protecting Mexican wolves. Fewer than 80 Mexican gray wolves exist in the wild. New populations of these wolves are desperately needed for them to thrive. The best available science confirms that the Grand Canyon region and the Southern Rockies are essential for Mexican wolf recovery. But the proposed rule will leave gray wolves unprotected in these places, making the survival of Mexican gray wolves much more difficult should they expand into new areas.
2. Delisting gray wolves throughout the lower 48 is premature and contradicts the best available science. The gray wolf has barely begun to recover or is absent from significant portions of its former range where substantial suitable habitat remains. The USFWS draft rule fails to consider extensive suitable habitat in the Pacific Northwest, California, the southern Rocky Mountains and the Northeast. It also fails to consider the importance of these areas to the long-term survival and recovery of wolves, or the importance of wolves to the ecosystems of these regions. The very scientists whose research is referenced in the draft rule to remove the gray wolves' protections have stated publicly that the science does not support the delisting.
3. The USFWS needs to quit stalling and complete a comprehensive recovery plan — and let the public see it — concurrently with re-listing the Mexican gray wolf. USFWS admits that their present, typewritten, 1982 recovery plan is not scientifically sound and does not meet current legal requirements. By delisting gray wolves in areas suitable for new Mexican wolf populations prior to completing the Recovery Plan that should plan for new populations, the USFWS is creating catch-22 obstacles to wolf recovery.
4. The USFWS proposal will prematurely turn wolf management over to the states, in spite of the unwillingness of states to manage wolves for recovery. Across the country, wolves face rabid anti-wolf politics, aggressive lethal control, unsustainable hunting, intolerance and other threats. In the Northern Rockies states, we've already seen what can happen when anti-wolf politics are allowed to trump science and core wildlife management principles.
Submit your comments here.
Public Comments Processing, Attn: FWS-HQ-ES-2013-0073
Division of Policy and Directives Management
U.S. Fish and Wildlife Service
4401 N. Fairfax Drive, MS 2042-PDM
Arlington, Virginia 22203
You can also help ensure Mexican wolf recovery by commenting on a second USFWS proposal of critical importance to the future of Mexican wolves – 

click here.
___________________________________________________________________________________________

Click here to join our email list for Mexican gray wolf updates and action alerts. 

Visit us on Facebook here.
Photo credit:  Amber Legras