Op-Ed: Protections Still Needed For Wolves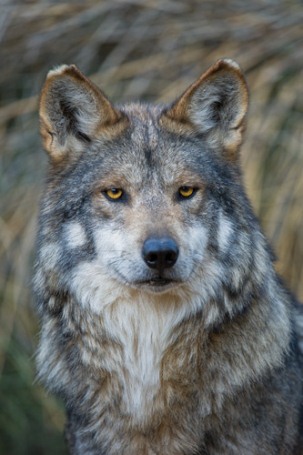 In June, the U.S. Fish and Wildlife Service proposed to remove gray wolves from the endangered species list despite wolves occupying only about 5 percent of their historic range. The service reminds us that the Endangered Species Act was not intended to provide indefinite life support. This is certainly true, and there might have been a compelling case for delisting today had the science supported it and had wolves reached a fuller stage of recovery.
But that hasn't happened. In fact, three states in our Northern Rockies, already charged with wolf management, have unleashed an intense and partisan desire to reduce wolf numbers to the barest minimum allowable. Montana, Idaho, and Wyoming now have recreational hunting and trapping seasons, and in the past two years nearly 1,200 wolves have been killed. Well-known and well-loved wolves from Yellowstone National Park were killed, including the cherished Lamar Canyon pack's alpha female. This degree of backlash questions whether our society has advanced past treating predators as a disposable commodity, a mindset that nearly wiped out wolves by the early 1900s.
There is an alternative path: one that recognizes that the majority of Americans support wolves as part of our wilderness and heritage, looks beyond managing wolves on the basis of population numbers along, recognizes the inherent value of wolves to exist in the wild as nature intended, and focuses on solutions to conflicts with livestock, such as nonlethal predator deterrents.
California is currently developing a wolf management plan and reviewing whether to protect wolves under state law in preparation for a future wolf population. Californians have a chance to lead the way and demonstrate how to afford the wolf the value it deserves, work together to reduce conflicts, and hopefully one day celebrate the recovery of wolves in our state.
The mission is far from accomplished. Delisting now is a political decision defying the majority's desire for a more complete, science-based recovery of gray wolves. We owe it to ourselves and future generations to protect gray wolves and maintain their rightful place on our wild landscape.
This article appeared in

U-T San Diego

on July 27.
#######
Please act today to save wolves!
Public Comments are being accepted until September 11, 2013 on the Fish and Wildlife Service Proposal to Strip Protections for Gray Wolves.
You can submit your comments
here
.
The U.S. Fish and Wildlife Service (USFWS) is proposing to remove Endangered Species Act protections for most gray wolves across the United States.
The only good thing in the proposal to delist gray wolves is a plan to re-list Mexican wolves as an endangered subspecies in their own right. Please comment for the good of all wolves and include the following key points:
1. While giving Mexican wolves their own Endangered Species Act listing is long overdue, delisting gray wolves throughout the U.S. is counter to protecting Mexican wolves. Fewer than 80 Mexican gray wolves exist in the wild. New populations of these wolves are desperately needed for them to thrive. The best available science confirms that the Grand Canyon region and the Southern Rockies are essential for Mexican wolf recovery. But the proposed rule will leave gray wolves unprotected in these places, making the survival of Mexican gray wolves much more difficult should they expand into new areas.
2. Delisting gray wolves throughout the lower 48 is premature and contradicts the best available science. The gray wolf has barely begun to recover or is absent from significant portions of its former range where substantial suitable habitat remains. The USFWS draft rule fails to consider extensive suitable habitat in the Pacific Northwest, California, the southern Rocky Mountains and the Northeast. It also fails to consider the importance of these areas to the long-term survival and recovery of wolves, or the importance of wolves to the ecosystems of these regions. The very scientists whose research is referenced in the draft rule to remove the gray wolves' protections have stated publicly that the science does not support the delisting.
3. The USFWS needs to quit stalling and complete a comprehensive recovery plan — and let the public see it — concurrently with re-listing the Mexican gray wolf. USFWS admits that their present, typewritten, 1982 recovery plan is not scientifically sound and does not meet current legal requirements. By delisting gray wolves in areas suitable for new Mexican wolf populations prior to completing the Recovery Plan that should plan for new populations, the USFWS is creating catch-22 obstacles to wolf recovery.
4. The USFWS proposal will prematurely turn wolf management over to the states, in spite of the unwillingness of states to manage wolves for recovery. Across the country, wolves face rabid anti-wolf politics, aggressive lethal control, unsustainable hunting, intolerance and other threats. In the Northern Rockies states, we've already seen what can happen when anti-wolf politics are allowed to trump science and core wildlife management principles.
Submit your comments here.
Public Comments Processing, Attn: FWS-HQ-ES-2013-0073
Division of Policy and Directives Management
U.S. Fish and Wildlife Service
4401 N. Fairfax Drive, MS 2042-PDM
Arlington, Virginia 22203
You can also help ensure Mexican wolf recovery by commenting on a second USFWS proposal of critical importance to the future of Mexican wolves – 

click here.
___________________________________________________________________________________________
Click here
to join our email list for Mexican gray wolf updates and action alerts. 

Visit us on Facebook
here.
Photo credit:  Robin Silver