News Blog: Newly Freed Mexican Wolf Recaptured; May Get Second Shot At Release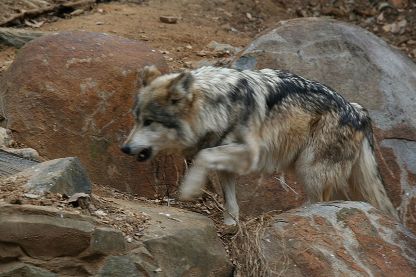 Wolf M1133's flirtation with freedom was short-lived.
Last week, barely three weeks after the U.S. Fish and Wildlife Service released its first Mexican gray wolf into the wild in more than four years, the male was back in captivity.
His wild ways were cut short, at least temporarily, by his failure to breed with an unpaired female wolf in the Bluestem pack in eastern Arizona, near where M1133 was released, service officials said.
"Although it was determined that the wolves interacted for a short period after the release, pair bonding did not occur and the Bluestem pack did not accept M1133 as a pack member," the service said in a statement.
"When M1133 moved into a location within the recovery area where he was unlikely to encounter other wolves, program biologists decided to capture him and return him to Sevilleta," site of a federal wolf management facility near Socorro, New Mexico. The animal was recaptured near Reserve, N.M., in Catron County, a hotbed of opposition to the federal wolf reintroduction program.
This recapture was a step backward for the long-troubled Mexican wolf recovery program, opined Michael Robinson, a conservation advocate for the Tucson-based Center for Biological Diversity and one of the wolf recovery program's most outspoken backers. The Fish and Wildlife Service defended its action, on the grounds that the recapture will give the endangered animal a chance to breed in captivity before getting a second chance in the wild.
M1133, four years old, was released into the Apache National Forest on Jan. 8, having been transferred from Sevilleta. The last leg of its trip to Arizona was by snowmobile, where it was released in an area adjacent to the Bluestem pack's territory.
That pack consists of four collared wolves, an adult female and three pups, and at least three uncollared wolves, including, probably, two pups and a yearling, the Arizona Game and Fish Department has said.
The wolf's release had been timed to coincide with normal early-season breeding activities, Game and Fish had said in a Jan. 16 news release. M1133 had been born in captivity in April 2008. This was the first "initial release" of a wolf, in which an animal is released from captivity for the first time as opposed to being re-released after having been captured in the wild, since November 2008.
"It's unbelievable that after four years without releasing any new wolves to the wild, that they immediately pick him up again," the center's Robinson said in a news release. "Both the chronic lack of releases and the recapture of this male ignore urgent pleas from scientists and conservationists to release more wolves to help the struggling population."
The service could have released another female to be near where M1133 was living, Robinson added.
Robinson also asked why not re-release this wolf with a female right now, to give them time to breed before the breeding season ends this month? And, why didn't the service originally release M1133 as part of a bonded pair, back on Jan. 8 when the animal went into the wild, he asked.
To the first question, the service replied that this release's purpose was to mate this male wolf with the Bluestem pack's alpha female, whose mate was illegally shot last summer.
To the second question, service officials agreed that it would have been feasible to release M1133 back into the wild quickly with a female. But the service said in a written response that this wolf has now been paired with a wild-born female at Sevilleta, and, "We're going to allow them to breed in captivity before release," to increase their chances of success.
"It is important to remember that we are working to establish a genetically sound wolf population. It's natural that all of us, including the Service, sometimes get swept up in the story of individual wolves," said Benjamin Tuggle, the U.S. Fish and Wildlife Service's Southwest Regional Director, in a press release issued Wednesday morning.
"While our management efforts may involve activities that affect an individual wolf or pack, our focus must be larger than that if we are to succeed in our Mexican wolf reintroduction goals."
M1133 and his captive breeding partner will be translocated as a pregnant pair into the Blue Range Wolf Recovery Area in the future.  Releases of pairs with a pregnant female or pairs with pups are documented to be most successful, the service said.
"This situation demonstrates why it is so important for endangered species repatriation programs to achieve reproduction in the wild. Although nearly 100 percent of Mexican wolves on the landscape are now wild-born, we are attempting to improve genetics by bringing in select captive-bred individuals and this will be challenging at best," said Director Larry Voyles of the Arizona Game and Fish Department.
"M1133's rejection by the pack and failure to pair, while disappointing, was neither catastrophic nor surprising. Those committed to Mexican wolf conservation will adapt, learn and try again another day or another way. Returning M1133 to captivity gives us the opportunity to generate more wolves now while preserving the possibility for a future release."
For Robinson, however, the release of one or two wolves into the wild is hardly enough. With the wild wolf population at 58 last year, he said, "Fish and Wildlife should be releasing family packs or at least dozens of single lobos to the wild right now, today. As the Mexican wolf slides toward extinction, officials are sitting on their hands and even hastening the decline . . . "
On Wednesday, the wildlife service and the Arizona Game and Fish Department will announce their annual Mexican wolf population count in a news release and in a telephonic news conference.
This story was covered by several papers.  Click here for talking points and contact information to write letters to the Editor.
The letters to the editor page is one of the most widely read, influential parts of the newspaper. One letter from you can reach thousands of people and will also likely be read by the U.S. Fish and Wildlife Service.