New Videos: Endangered Wolf Center Videos of Abby, Perkins, and New Pups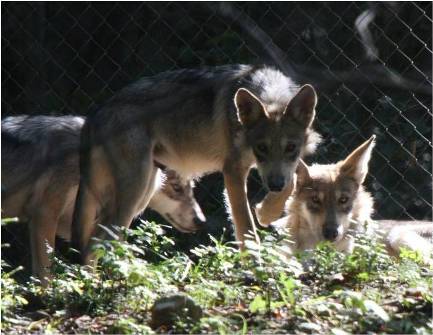 The Endangered Wolf Center, one of the captive breeding facilities helping to recover Mexican gray wolves, recently posted videos showing  adults Abby and Perkins with a batch of tiny new puppies. Enjoy!
VIDEO: Today is the Day
Great news from the Endangered Wolf Center. Watch the video and give a big cheer for Abby and Perkins! Click here to watch.
VIDEO: Inside the Wolves' Lair
What's it like inside a Mexican gray wolf den? Here, via remote camera, is a visit with mom Abby and her six tiny puppies. Abby lives at the Endangered Wolf Center in Missouri, one of about 50 facilities in the U.S. and Mexico that belong to the captive breeding program for the species. Click here to watch.

VIDEO: This is a First – Rare Wolf Pups Meet the Rest of the Pack for the First Time
Mexican gray wolf packs in the wild den in secluded places. Humans rarely, if ever, witness the first emergence of little pups from the den, but it must be very much like this meeting of captive pups and their pack, caught here on remote camera at the Endangered Wolf Center. Click here to watch.
 
Photo credit: Abby and Perkins' previous pups courtesy of the Endangered Wolf Center