New In the Press: El Paso Zoo wolf part of effort to revitalize species
By Victor R. Martinez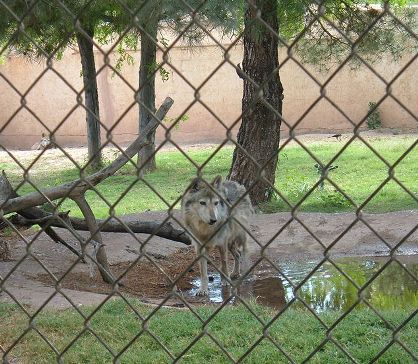 Fern, one of three female Mexican gray wolves at the El Paso Zoo, is playing a significant role in an international effort to save her species from extinction.
She arrived at Wolf Haven International in Tenino, Wash., on Monday and soon will be bred with a male wolf.
"This is one of the rarest animals on earth," said Rick LoBello, education curator at the El Paso Zoo. "There are less than 40 of them left in the wild." "¦
"This is one of only three pre-released breeding facilities, so wolves who go to this facility are candidates to be either released in the wild or for their progeny to be released in the wild," LoBello said. "She is female so chances are she can successfully raise puppies and then the question becomes can she and her puppies be eventually released into the wild?"
Fern was selected for the Wolf Haven breeding facility by a panel of animal experts.
"Each endangered species has a species survival plan," LoBello said.
"The committee gets together on a regular basis and reviews the entire zoo populations and they are selected for re-introduction in the wild based on the genetics of the animal, the age, the sex and the animal's behavior."
Over the past 16 years, Wolf Haven International has produced five litters of Mexican gray pups and released two packs (11 wolves) into the wild.
Some of the first Mexican wolves released back into the wild after a 30-year absence came from Wolf Haven International. "¦
To read the full article, published by the El Paso Times on November 2, 2010, click here.
Please submit a letter to the editor urging the U.S. Fish and Wildlife Service to release more Mexican wolves into the wild to increase population numbers and strengthen genetics: http://www.elpasotimes.com/townhall/ci_14227323
Photo of Mexican wolf at the Alameda Park Zoo courtesy of Allen S