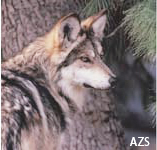 Wolf-howling in Arizona is the sound of ecological health. Yet the Mexican gray-wolf recovery program is in trouble.
Twelve years ago, a group of endangered Mexican gray wolves was released in an area straddling the Arizona and New Mexico border. The hope was that 100 wolves would populate the area by 2006.
Now this effort is "at risk of failure," according to a new report from the U.S. Fish and Wildlife Service. It's not surprising.
The program was set up to give wolves less protection than other endangered species, and it was managed to give ranchers leverage to have wolves killed or removed from the land.
Some ranchers near the wolf-recovery area oppose sharing the public land with wolves.
Yet scientific research shows that elk, not cattle, are the preferred prey of the wolves living in the Blue Range Wolf Recovery Area.
In fact, between 1998 and 2008, there were only 123 confirmed cases of cattle depredation by wolves, according to the federal report. In roughly that same time frame, 144 wolves were killed or removed.
Why? "¦
Click Here to read the entire editorial published in the Arizona Republic on June 21, 2010, and to submit an online comment.
Please submit a letter to the editor supporting Mexican gray wolves here:
http://www.azcentral.com/arizonarepublic/opinions/sendaletter.html
Letter writing tips can be found Here.