Never Giving Up: Work Continues on Mexican Wolf Recovery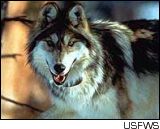 A new article from the U.S. Fish and Wildlife Service on its efforts to recover Mexican gray wolves appears on page 44 of the most recent Endangered Species Bulletin.
The issue also includes an overview of the recovery planning process on page 6, which is timely for lobo supporters, as the USFWS has finally begun the process of drafting a new Recovery Plan for the Mexican wolf this year. 
You can download a pdf of the Endangered Species Bulletin here.