Mexico's Release of Wolves Troubling to US Ranchers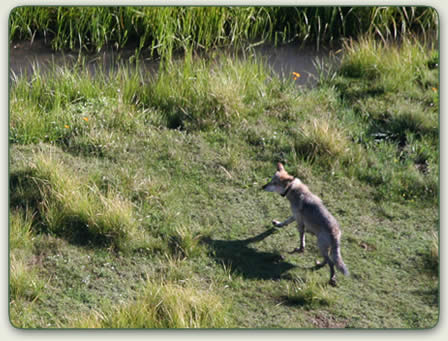 The dispute between ranchers and pro-wolf environmentalists continues as the reintroduction of the Mexican gray wolf goes further.
On Oct. 11, five Mexican gray wolves were released in the Sierra San Luis, in the northeast corner of Sonora.
"This is a very good area in Mexico for the animals," said Michael Robinson, of the Center for Biological Diversity. "I think there are some potential advantages and disadvantages."
Robinson said the wolves would be protected by law if they cross into the U.S.
The reintroduction was a first for Mexico. In 2010, Mexican officials had planned to release the wolves in the San Luis mountains but did not go forward.
"Members of the federal government realized that there were still insufficient means to support landowners within the wolf-reintroduction area," said Juan Carlos Bravo, northwestern Mexico representative of the environmental group Naturalia. "Protecting wolf habitat in Mexico is a complex issue. Our country does not have vast public lands that can be designated as wilderness sanctuaries, so most of the conservation actions will eventually be the responsibility of private and communal landowners."
While environmentalists and pro-wolf organizations were pleased with the release, some in the ranching community are not.
Ed Wehrheim, chairman of Americans for Preservation of Western Environment in New Mexico, said it costs taxpayers more than $400,000 per wolf to be reintroduced.
"¦
Tom Buckley, spokesman for U.S. Fish and Wildlife Service, said the reintroduction program is paid from various sources. "Yes, we have had funds come from the federal government, but also contributions as well," Buckley said.
"¦
"What we are wondering is what is truly the benefit of this program?" Wehrheim said. "I think the release in Mexico is just another tactic to put more wolves up here."
Americans for Preservation of Western Environment has sent out a petition in New Mexico to stop the release of wolves.
"There should be some economic value before declaring that a species is endangered," Wehrheim said. "We are all environmentalists. We believe in protecting the land for future generations, but what the wolf program is doing now is just ridiculous."
To read the full article and post a comment,
click here
.
PLEASE SUBMIT A LETTER TO THE EDITOR IN SUPPORT OF MEXICAN GRAY WOLF RECOVERY.
This article provides a brief window of opportunity to get letters published showing public support for wolves. The letters to the editor page is one of the most widely read parts of a newspaper and is viewed by decision-makers as a barometer of public opinion.
LETTER WRITING TIPS: This is your letter, so write what you think or feel about wolves and wolf management in your own words. However, here are a few suggestions for ensuring your message gets through clearly:
* Stress that Mexican gray wolves are necessary to restore the balance of nature.
* Ask your fellow citizens to speak up in support of Mexican gray wolves.
* Encourage public officials (by name) to support the U.S. Fish and Wildlife Service's actions to develop a new Recovery Plan based on the best available science.
* Include your connection with wolves and why the issue is important to you.
* Emphasize the benefits wolves provide
ecologically
and
economically
in places where they have been successfully reintroduced, like the Yellowstone region.
* Keep your letter under 200 words.
* Provide your name, address and phone number; your address and phone number will not be published with your letter, but they are usually required for confirmation in order to have your letter published.