Mexican Wolf Biography #9
Mexican gray wolf Aspen (F168) was born on April 27, 1994, at the Endangered Wolf Center in Missouri, to prolific Mexican gray wolf pair Francisco and Sheila (See Lobo Biography #2).  Rio (See Biography #3) was a littermate, as was Zita (F169). All three wolves spent time in the wild.

Aspen, F168, at the California Wolf Center, 11/2/09. Photo courtesy of the California Wolf Center

Aspen, her mate, M183, a yearling male, and five pups were released into the wild in eastern Arizona on May 24, 1999. The lobo family found the deck stacked against them from the beginning. The area into which they were released suffered from severe drought conditions. Both wildlife and livestock found little to eat. To make matters worse, according to the Mexican Wolf Project Annual Report for 1999: "Livestock remained in Coalson Canyon contrary to the allotment plan, and biologists observed little sign of native prey." Faced with the necessity of feeding growing pups, Aspen and her mate began killing livestock. They had killed a total of four cattle by the end of the year.
After the pack killed a fifth cow in January 2000, project personnel trapped all members except one pup, which had disappeared, and the yearling male, M555. That animal had begun to disperse from the pack and was left in the wild. He was lost to follow-up in March 2000.
The alpha male, M183, was separated from the pack in captivity and was barred from re-release. Two pups were euthanized for incapacitating distemper, one in February and one in August. Aspen and the remaining two pups remained candidates for re-release, however, only the two pups were ever returned to the wild. One, mp583, became the alpha male of the Luna pack. Another, mp584, became the leader of the Gapiwi pack, siring a female pup that is still in the wild as AF903, alpha female of the San Mateo pack in New Mexico.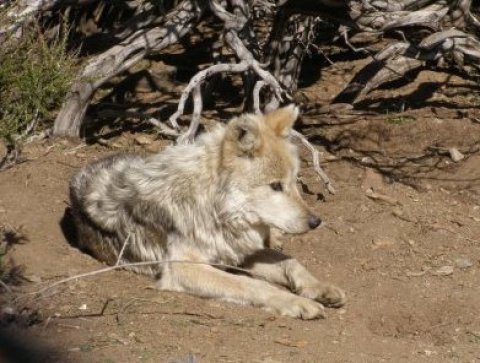 Aspen's brother Rio, M166, at the California Wolf Center, 3/7/08. Photo courtesy of the California Wolf Center

On December 4, 2002, both Aspen and her brother Rio were transferred to the California Wolf Center, where they were offered a permanent home together. As Rio aged, he began to lose his sight and hearing. His sister remained with him and helped him navigate through their enclosure until his death in late May of 2009 at the age of 15.
Animal Care and Facilities Manager Bonnie McDonald described the relationship between Aspen and Rio as "very protective."
"Being mostly blind and deaf, Rio would slowly tip toe his way around the enclosure.  Aspen was always right there with him, protecting him.   After he died in May 2009, Aspen would howl off and on all day.  The visiting public were always excited to hear her howls. For many of them she was the first wolf they had ever heard howl.  That was something that always stuck out in my mind.  She was off-exhibit but she made such an impact on the visiting public," McDonald said.
Aspen continued to live at the California Wolf Center in her peaceful, off-exhibit enclosure until March 27, 2010, when she was euthanized due to failing health. She died just a month before her 16th birthday.