Mexican gray wolf captured in NM now in Arizona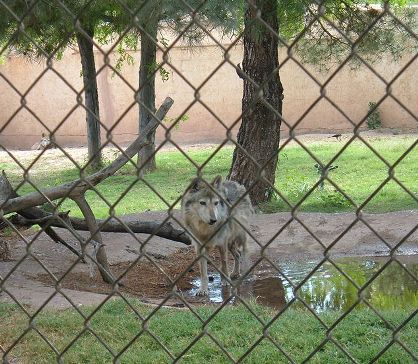 SCOTTSDALE, Ariz. (AP) – A Mexican gray wolf recently captured in New Mexico now is at a sanctuary near Phoenix.
Officials at the Southwest Wildlife Conservation Center in Scottsdale say the female wolf is in good health, eating well and settling into her new surroundings.
She's currently being housed alone but does have other Mexican wolves living adjacent to her.
At some point, Southwest Wildlife will introduce her to another Mexican wolf so she will have a companion.
Officials say the wolf won't be on display in its nature center.
The center houses 15 other Mexican wolves along with mountain lions, black bears, bobcats and other native mammals which are on display and can be viewed by the public.
The Mexican gray wolf was added to the federal endangered species list in 1976.

*****
This Associated Press story ran in several online news stations.
This wolf was captured for purportedly killing livestock. But the limited evidence received from Wildlife Services is sketchy.  Please CLICK HERE to read about the hundreds of pages of blacked out records that Wildlife Services used to justify her capture and incarceration.  There is also a link to a petition to Congress calling for further investigation.
Photo courtesy:  Allen S.