Lords of Nature Comes to PBS!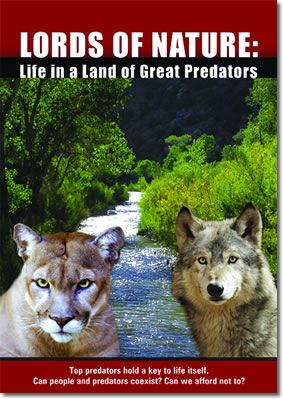 Lords of Nature: Life in a Land of Great Predators, the award-winning documentary on the ecological role of top predators, is coming to some PBS affiliate stations across the country. 
Your help is needed to make sure we get as large an audience as possible.  Be sure to tell your friends about this amazing film and then tune in, or host a house party to watch it on PBS with friends. See www.lordsofnature.org/PBS for more information.
Could the survival of birds, butterflies, beavers, antelope, wildflowers and frogs be directly tied to the presence of wolves and other top carnivores?
That's the question Lords of Nature explores — and the answer could change the way the world thinks about wildlife conservation. 
This award-winning documentary allows the audience to follow in the footsteps of wolves — and the scientists who are working to understand their place in our changing landscapes. What you'll learn will surprise you.
PBS BROADCAST DATES
Certain PBS affiliate stations across the U.S. began airing LORDS OF NATURE in September 2010 — and others will air it over the next year. Broadcast dates are listed at: http://www.lordsofnature.org/PBS/. Don't see your community listed? Check back as stations are being added regularly.
YOU CAN HELP
We need your help to promote the broadcasts and ensure as many people as possible tune in. Tell your friends to watch or organize a home viewing party and invite your friends when it airs in your community. We have home screening kits to make it easy to do — email us  to receive one.
We can also provide a press release you can submit to your local media to promote LORDS OF NATURE airing on PBS in your community or state. Email us to receive it.
NEW DATES AND CITIES ARE CONTINUOUSLY BEING ADDED.
Check back frequently.  And remember to be sure to check local listings as schedules are subject to change.