In the Press: Pearce's continued attack on wildlife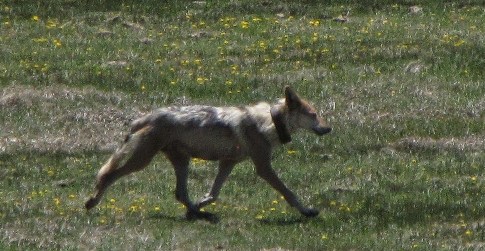 From pronghorn on the eastern plains to javelina in the Bootheel, New Mexico is truly blessed with a diversity of wildlife. This fact is confirmed by biologists. Of all the states, we rank third in the number of species of mammals found within our borders, third in reptiles and amphibians, and second in birds.
So why is Congressman Steve Pearce so determined to get rid of our wildlife? In recent months, he's been like a hunter on safari, taking aim at one species or habitat after another. Here are some of his targets:
Mexican spotted owls: Pearce introduced a bill (HR 1202) that would relegate endangered Mexican spotted owls to "sanctuaries" while opening up the rest of our national forests to commercial logging.  "¦  Spotted owls require healthy forests with big, old trees. Decades of logging have left big timber in short supply on New Mexico's national forests, and put spotted owls on the endangered list. Pearce's bill would give timber companies the green light to cut the last of the big trees, and start owls back down a quick path to extinction.
Mexican wolves: With only 50 or so Mexican wolves in the wild, the "lobo" may be the most endangered canid on the planet, but that hasn't stopped Pearce from trying to send it the way of the dodo. He tried to attach a rider to a stopgap budget bill meant to keep the government from shutting down that would have cut off funding for the Mexican wolf reintroduction program, now in its 13th year. His amendment failed, but Pearce hasn't given up. He is cosponsor of another bill (HR 509) that would eliminate protection for all gray wolves under the Endangered Species Act, silencing the lobo's howl forever.
Gila trout: Pearce rallied opposition to a modest Forest Service proposal to control off-road vehicle use in the Gila National Forest.  … Too often the result (of off road driving)  is soil erosion and pollution of streams inhabited by creatures such as the Gila trout. Pearce denounced the agency's proposal as "a war on our lifestyles, quality of life, our history and our culture." What was this dire threat? The Forest Service would like vehicles to (mostly) stay on designated routes, and wants to reduce the number of roads from the outrageous — 4,600 miles currently – to the merely excessive – 3,300 miles, still enough to drive from California to Maine.
Dunes sagebrush lizard: "¦   According to Pearce, listing the lizard (on the Endangered Species List) would have a "devastating" economic impact, causing "most" jobs in the oil and gas industry in southeastern New Mexico to be lost. While Pearce's scapegoating of a tiny reptile may play well with his campaign donors (since 1989, Pearce has taken nearly $1.2 million in contributions from the oil and gas industry), the facts suggest otherwise. The Endangered Species Act allows drilling and other activities to continue, providing safeguards are followed to protect the lizard and its habitat.
Bighorn sheep: Large roadless areas are good for wildlife, especially species that need lots of room and tend to avoid people, such as bighorn sheep.  "¦  Pearce has cosponsored a bill (HR1581) that would remove protection for more than 400,000 acres of roadless areas in New Mexico, and millions of similar acres in the West.
Pearce claims to support wildlife conservation, but his actions too often would have the opposite effect. Aldo Leopold wrote that there are two kinds of people in the world: those that can't live without wild places and wildlife, and those that can. Unfortunately for New Mexico's extraordinary natural heritage, it seems like Steve Pearce is one of those who can.
Kevin Bixby is Executive Director of the Southwest Environmental Center.
Read the complete article here.
****
Contact Congressman Pearce and let him know that Mexican gray wolves need the Federal protections of the Endangered Species Act.  With less than 50 left in the wild, Mexican gray wolves are critically endangered. 
Please send a letter to the editor of the Las Cruces Sun-News thanking them for publishing this Op-ed, and urging all Southwest members of Congress to fight Pearce's efforts to strip protections from Mexican wolves and other wildlife. You can submit your letter here.

Photo courtesy of Jean Ossorio