In the Press: Mexican Wolves Number 50 in the Wild
By Rene Romo
Journal Southern Bureau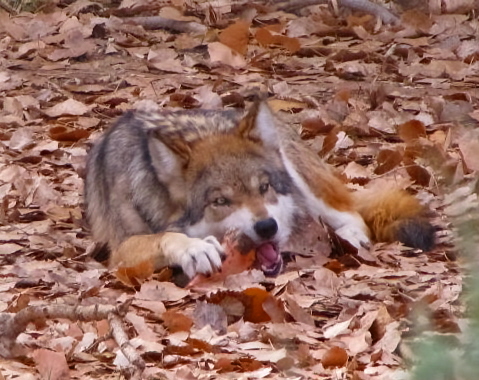 LAS CRUCES — The wild population of endangered Mexican gray wolves grew 19 percent in 2010 to a year-end total of 50, the U.S. Fish and Wildlife Service announced Tuesday
       
Benjamin Tuggle, the service's Southwest regional director, said he was encouraged by the population growth, which followed three years of stagnant growth or population declines.
       
Service officials attributed the growth in part to the fact that no wolves were removed from the wild last year for killing livestock, and to a high survival rate among pups born in the spring. In 2010, 14 of the 18 pups born in the spring survived to the end of the year, compared with only seven of 30 that survived in 2009. "¦
The Fish and Wildlife Service also announced Tuesday that it released two wolves from captivity into the Blue Range Wolf Recovery Area, a sprawling expanse made up largely of national forests in southwest New Mexico and southeast Arizona.  "¦
Michael Robinson of the Center for Biological Diversity also welcomed the "trend in the right direction."
       
 "Obviously, Mexican wolves are not out of the woods yet. They are still perilously close to extinction," Robinson said, "but I'd rather see a trend line up."
To read the full article and post a comment, click here.  Non-subscribers can use the free trial access button.
This article also appeared in the AZ Republic on February 1, 2011.
Please write a letter to the editor of the Albuquerque Journal asking your Senator to make sure these 50 wolves keep their Endangered Species Act Protections: http://www.abqjournal.com/letters/new.
Everything you need to write a letter is here.
Photo credit: Mexican gray wolf at the Rio Grande Zoo