In the Press: Injured Mexican Wolf Dies On Way To Veterinarian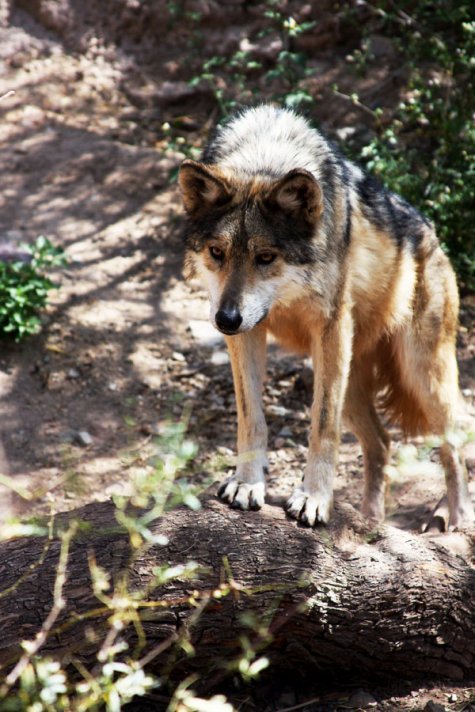 Contacts:  Tom Buckley, USFWS, Tom_Buckley@fws.gov, (505) 248-6455
Lynda Lambert, AZGF, LLambert@azgfd.gov, 623-236-7203
On November 23, Arizona Game and Fish Department personnel on the Mexican Wolf Interagency Field Team (IFT) were contacted by a member of the public who reported seeing an injured Mexican wolf in the Apache-Sitgreaves National Forest south of Big Lake, Arizona.  The IFT located and observed the wolf the next day by tracking his radio collar signal.  After confirming the wolf was injured, the IFT initiated efforts to capture the animal and evaluate its injury.
The IFT captured this wolf on December 3rd and identified it as mp1242, a young male that was born earlier this year into the Bluestem pack. IFT members found that mp1242 had an injured rear leg and was in poor body condition.  In phone consultation with a veterinarian, project personnel attempted to implement life saving measures en route to the vet's office, but the wolf died of its injuries.
U.S. Fish and Wildlife Service (Service) law enforcement agents have opened an investigation and the carcass has been sent to the National Fish and Wildlife Forensics Laboratory in Ashland, Oregon, for necropsy.
The Bluestem Pack has two adults (the breeding pair) and, until this death, potentially three or more pups of the year.  Two pups were radio collared earlier this summer.
Mexican wolf reintroduction is a joint effort by the U.S. Fish and Wildlife Service, Arizona Game and Fish Department, White Mountain Apache Tribe, USDA Forest Service, USDA Animal and Plant Health Inspection Service – Wildlife Services, and other stakeholders.
The mission of the U.S. Fish and Wildlife Service is working with others to conserve, protect and enhance fish, wildlife, plants and their habitats for the continuing benefit of the American people. We are both a leader and trusted partner in fish and wildlife conservation, known for our scientific excellence, stewardship of lands and natural resources, dedicated professionals and commitment to public service.   The U.S. Fish and Wildlife Service works cooperatively with the American public to continue the conservation legacy of America's great outdoors.   For more information on our work and the people who make it happen, visit www.fws.gov.
###