In the Press: Feds Order Lethal Removal of Female Mexican Wolf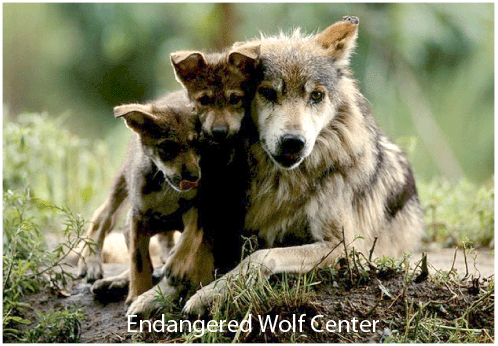 By SUSAN MONTOYA BRYAN
Associated Press
ALBUQUERQUE, N.M. (AP) — The U.S. Fish and Wildlife Service signed an order Thursday calling for the shooting of a female Mexican gray wolf that was accused of killing too many cows in southwestern New Mexico.
This marks the first time since 2007 that the agency was taking the step to kill an endangered wolf due to livestock problems.
The order calls for shooting the Fox Mountain Pack's alpha female.
Wolf Recovery Coordinator Sherry Barrett said it was a difficult decision given that the population of endangered wolves in New Mexico and Arizona has been struggling since reintroduction began 14 years ago.
"Our goal is to recover the population and to grow this particular population, but we also recognize the need to address these depredations so that we have a successful reintroduction program," she said.
The rancher who lost cattle to the Fox Mountain Pack was compensated for his losses, but Barrett did not know how much he was paid through the government's reimbursement program. Barrett also declined to release the name of the rancher.
Wolf supporters were upset with the decision. They cited concerns about the ability of the pack's pups to survive without their mother and the limited opportunity for the pack's male to find another mate.
"This is a terrible decision. It just doesn't make sense to kill her," said Michael Robinson of the Center for Biological Diversity, an environmental group that has been critical of wolf management.
Daniel Patterson of Public Employees for Environmental Responsibility accused the federal government of encouraging a welfare ranching policy through its actions. He also pointed out that the program has not released into the wild any new wolves in nearly four years.
A subspecies of the gray wolf, the Mexican wolf once roamed parts of New Mexico, Arizona, Texas and Mexico. Hunting and government-sponsored extermination campaigns all but wiped out the predator. It was added to the federal endangered species list in 1976, and a captive-breeding program was started.
The first batch of wolves was released in May 1998, and at least 58 wolves remain in the wild along the New Mexico-Arizona border. Biologists estimate there are 14 packs among the two states.
Aside from political setbacks, illegal shootings and courtroom battles, genetic diversity has been a problem for the program. Biologists say inbreeding can result in smaller litter sizes and higher pup mortality rates.
Barrett said the Fox Mountain alpha female and male are cousins so the female is not considered as genetically valuable as other wolves that have been allowed to stay in the wild despite livestock problems.
Still, the order acknowledges that the pack "remains important to achieving population goals."
Barrett said the pack's pups are old enough to survive without their mother with the help of the alpha male and a yearling that has been tagging along with the pack.
The agency tried hazing, range riders were hired to scare the wolves away and feeding was done in an attempt to lure the wolves away from the cattle. Barrett said nothing worked.
Four cattle deaths linked to the pack happened outside the wolf recovery boundaries within the last four months, with the most recent one being reported Aug. 1. There were also two other cases last summer.
***************************
PLEASE CALL TODAY TO STOP THE SENSELESS KILLING OF THIS WOLF!
Click here
for phone numbers and talking points.
After you've called, please write a letter to the editor, thanking the papers for the story and condemning the decision to kill this wolf!
The letters to the editor page is one of the most widely read, influential parts of the newspaper. One letter from you can reach thousands of people and will also likely be read by the U.S. Fish and Wildlife Service.
Tips for writing your letter are below, but please write in your own words, from your own experience.
Letter Writing Tips & Talking Points
Below are a few suggestions for ensuring your message gets through clearly-your letter will be most effective if you focus on a few key points, so don't try to use all of these. If you need additional help or want someone to review your letter before you send it, email it to
info@mexicanwolves.org
.
Start by thanking paper for publishing this article. – This makes your letter immediately relevant and increases its chances of being published.
Let people know that by killing this wolf, the USFWS is depriving four pups born this summer of their mother, harming this family of wolves, and destroying one of only a few breeding pairs in the wild.
Tell readers that with only 50-60 Mexican wolves in the wild, every one is important, and this female wolf birthed four pups just this summer.
Remind people that are many solutions to conflicts between livestock and wolves, but there are very few Mexican gray wolves. Members of the livestock industry have a responsibility to share the land with wolves. Many livestock growers are taking steps to live with wolves and it's been working — this is the first wolf that the USFWS has decided to remove for livestock trouble since 2007.
Emphasize that the Fish and Wildlife Service needs to release more Mexican wolves into the wild, not kill the ones already there.
Convey how important new releases of wolves into the wild are to increase the population's numbers and genetic health, especially now.  The wild population is extremely small and vulnerable to threats such as disease, inbreeding, or natural events. Urge the USFWS to end the freeze on new releases of captive wolves into the wild.
Tell readers why you support wolves and stress that the majority of New Mexico and Arizona voters support the Mexican wolf reintroduction.  Polling showed 69% support in New Mexico and 77% support in Arizona.
Talk about your personal connection to wolves and why the issue is important to you.  If you're a grandmother wanting your grandchildren to have the opportunity to hear wolves in the wild, or a hunter who recognizes that wolves make game herds healthier, or a businessperson who knows that wolves have brought millions in ecotourism dollars to Yellowstone, say so.
Describe the ecological benefits of wolves to entire ecosystems and all wildlife.  Wildlife biologists believe that Mexican wolves will improve the overall health of the Southwest and its rivers and streams — just as the return of gray wolves to Yellowstone has helped restore balance to its lands and waters.
Keep your letter brief, between 150-300 words.
Provide your name, address, occupation, and phone number; your full address, occupation, and phone number will not be published, but they are required in order to have your letter published.
Submit your letter to:
Albuquerque Journal article
Arizona Daily Star

article



Submit your letter
here
(150 words or less)
My San Antonio article

Submit your letter
here
Farmington Daily Times
article
Submit your letter
here
(400 words or less)
The Las Cruces Sun News
article
Submit your letter
here
.  (300 words or less)
East Valley Tribune
article
Submit your letter
here
. (250 words or less)
***********************************
THANK YOU FOR TAKING THE TIME TO HELP MEXICAN WOLVES!