In the Press: 2 Men Plead To Shooting Wolves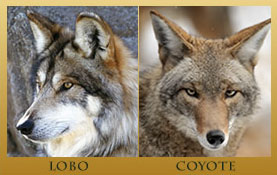 By Rene Romo / Journal South Reporter
LAS CRUCES — Two men in separate cases in federal court last week each pleaded guilty to fatally shooting a Mexican gray wolf, a misdemeanor.
Jack Bruton, 60, of Magdalena in Socorro County, and Ron Rains, 57, of Reserve in Catron County, said they initially thought they were shooting a coyote, for which no permit is needed.
 
Bruton was cited for shooting a Mexican gray wolf, which is protected under the Endangered Species Act, on April 15, 2010. Rains was cited for shooting a lobo on Dec. 2, 2010.
 
According to monthly reports from the U.S. Fish and Wildlife Service, a female wolf that roamed alone, designated F1154, was discovered dead under suspicious circumstances in April 2010. The wolf Rains shot appears to have been a 13-year-old female, designated F521, that was a member of the Fox Mountain Pack in New Mexico.
 
According to the U.S. Attorney's Office, after Bruton shot and killed a wolf he thought was a coyote, he took the wolf to his home where he removed a collar, fitted with a GPS device. "¦
  
A U.S. magistrate judge fined Bruton $250 and ordered him to pay $4,095 in restitution, including $2,095 to cover the cost of the collar and GPS device.
 
In the other case, Rains was driving through the Apache National Forest near his home in Reserve when he shot and killed a wolf he believed was a coyote. After realizing he had shot a wolf, Rains reported the matter to local law enforcement.
 
Rains had been told two days before the shooting that a wolf was in the area where it was shot, according to court records.
 
The judge fined Rains $250 and ordered him to pay $1,000 in restitution.
 
Wildlife officials last month discovered a female wolf from the Arizona-based Rim Pack dead in a case that is under investigation.
***************************************************************************************************
Click here to read the full article in the Albuquerque Journal (non-subscribers can scroll down and use the Trial Access button)
PLEASE SUBMIT A LETTER TO THE EDITOR.
Mexican gray wolves are critically endangered and extremely valuable to the restoration of southwest wildlands. With only around 50 in the wild, every loss is catastrophic. Shootings must be thoroughly investigated and prosecuted, and penalties should be severe enough to effectively deter others from killing these magnificent animals.
Letters to the Albuquerque Journal can be submitted here.
Similar articles ran in these papers:
Las Cruces Sun-News Submit letters to the editor here
Alamogordo Daily News Submit letters to the editor here.
The Republic (Columbus, Indiana) Submit letters to the editor here
Letter writing tips and additional editorial contacts can be found here.