In the News: Wolf science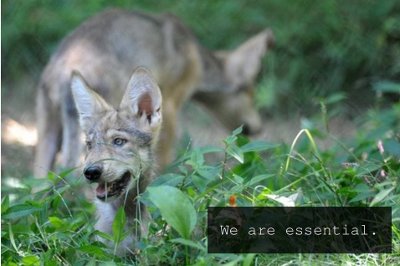 Annual counts of endangered Mexican gray wolves in New Mexico and Arizona began in 2005. The counts provide an update on the species' recovery in the Southwest, while also giving biologists a chance to collect valuable information on certain animals that are temporarily captured. Biologists fit those animals with tracking collars, draw blood samples and measure them, all of which aid research and management of the population.
Being able to track the canids is key to figuring out appropriate areas for future releases of captive wolves into the wild because those new additions can't be put into territory already claimed by another pack, said Sherry Barrett, Mexican wolf recovery coordinator for the U.S. Fish and Wildlife Service.
The successful release into the wild of adults raised in captivity is fundamental to maintaining the diversity of the Mexican gray wolf population and preventing detrimental impacts of inbreeding, Barrett said. If animals that are too closely related begin mating, it can result in outcomes like birth defects or smaller litter sizes, she said.
GPS tracking collars being put on the wolves also provide data for a long term study on the rate of wild ungulate and livestock killings by wolves. In the study, biologists analyze wolf location information transmitted by the collars several times per day. If two or more data points show up in one place, it could indicate that was the site of a kill because multiple wolves were at that spot, said Julia Smith, a biologist with the Arizona Game and Fish Department. If they do suspect that was the case, biologists go out to those locations to confirm if the wolves did make a kill.
The project aims to gather solid data on the number of wild ungulates and livestock taken down by the wolves, giving federal and state agencies solid information about the predators' impact on those animals and informing policy decisions about Mexican gray wolf management in the future, Smith said. So far, neither New Mexico nor Arizona have been able to record that wolves have had an impact on wild ungulate populations, said Jeff Humphrey, spokesman for the U.S. Fish and Wildlife Service.
Blood samples collected from the animals are used to scan for diseases and for genetics tracking. Some samples also are sent to the University of New Mexico's Museum of Southwestern Biology for use on future projects and research, said Susan Dicks, a staff veterinarian and biologist with the U.S. Fish and Wildlife Service.
Teeth measurements help wildlife managers identify whether a wolf was responsible for an ungulate killing while paw measurements are useful in answering questions about tracks left in the sand or snow, Dicks said. Knowing the body size and weight of the animals is useful for tracking trends in the population over time, she said.
While the information collected from the wolves is certainly useful, biologists have to find a balance between the need and desire to gather data from the animal and the time crunch to get it back into the wild, Barrett said.
"When you're doing research like this and taking measurements, there is always that tradeoff between how much time you want to hold an animal down and get measurements versus getting the information that you may need or want in the future," she said.
The letters to the editor page is one of the most widely read, influential parts of the newspaper. One letter from you can reach thousands of people and will also likely be read by decision-makers.  Tips for writing your letter are below, but please write in your own words, from your own experience.  Don't try to include all the talking points in your letter.
Letter to the Editor Talking Points and Tips
Mexican gray wolves are beautiful, intelligent, native animals. We have a responsibility to them and to future generations to ensure their recovery.
Geneticists have warned for years that the wild population needs greater diversity, but the US Fish and Wildlife Service has failed to release new wolves into the wild to improve the wolves' genetic health.
For over 3 decades, captive breeding programs in the U.S. and Mexico have worked to maximize genetic diversity so that captive wolves could be released to increase the wild population's genetic health. But USFWS has released very few of these wolves.  The wild population of Mexican gray wolves remains critically endangered and in need of additional populations, new releases to improve the population's genetics, and a scientifically valid recovery plan.
Almost 17 years after the first Mexican wolves were reintroduced, there are still only 109 wolves in the wild. More wolves are needed to stop inbreeding that researchers suggest may be lowering litter sizes and depressing pup-survival rates.
The window is closing on fixing the genetic issue, and one of the easiest steps the US Fish and Wildlife Service can take is to release more wolves from captivity, and do it now.
This population increase is because of the wolves' amazing ability to survive and breed pups. It is in spite of the Fish and Wildlife Service's failure to make needed changes and release more wolves.
Wolves are a benefit to the West and are essential to restoring the balance of nature.
Polling shows that the majority of voters support the Mexican wolf reintroduction.
Wildlife biologists believe that Mexican wolves will improve the overall health of the Southwest and its rivers and streams — just as the return of gray wolves to Yellowstone has helped restore balance to its lands and waters.
Mexican gray wolves are unique native animals. They are the rarest, most genetically distinct subspecies of gray wolf in North America and the most endangered wolf in the world.
Wolves generate economic benefits – a University of Montana study found that visitors who come to see wolves in Yellowstone contribute roughly $35.5 million annually to the regional economy.
Make sure you:
Thank the paper for publishing the article.
Do not repeat any negative messages, such as "livestock businesses may oppose wolves, but"¦"  Remember that this is an opportunity to get out positive messages about wolf recovery rather than to argue with the original article.
Keep your letter brief, between 150-300 words.
Include something about who you are and why you care: E.g. "I am a mother, outdoors person, teacher, business owner, scientific, religious, etc."
Provide your name, address, phone number and address.  The paper won't publish these, but they want to know you are who you say you are.